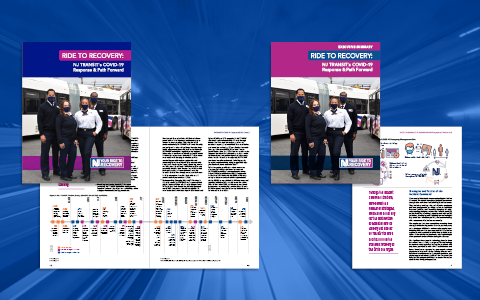 NJ TRANSIT (NJT) recently released the Ride to Recovery: NJ TRANSIT's COVID-19 Response and Path Forward, a public document that summarizes how NJT responded to the COVID-19 pandemic and is serving a critical role in the region's ongoing recovery. The Response and Path Forward is the result of an unprecedented collaboration between members of NJ TRANSIT's leadership teams, regional transit agencies, VHB, and AECOM over months of research and documentation.
The document, which is tied to the agency's 10-year Strategic Plan goals and initiatives, contains the team's findings and emphasizes lessons learned, creating a pathway to a more agile, responsive, technologically innovative, and forward-thinking transit agency. VHB worked with the NJT review team to allow everyone the chance to provide feedback while keeping the development of the document moving. The Plan's 11 chapters and Executive Summary outline extensive documentation, research, and outreach, including:
Pandemic impacts to the agency
Restoration approach and organizational infrastructure
Scenario planning and ridership forecasting
Finance
Health and safety (customers and employees)
Data analysis and trends
Service planning
Customer communications
"We all had to pivot back in March 2020, but we saw a chance for VHB to help NJT think outside the box in providing necessary, safe, and reliable service throughout the height of the pandemic while keeping their 10-year Strategic Plan and 5-year Capital Program moving forward," said Lisa DiTaranti, VHB's Northeast Director of Transit and Rail. "The VHB team worked closely with our AECOM partners and NJT, including collaboration with agency-wide connections, which allowed us to identify priorities and build stronger relationships."
"At VHB, we use our skillset as planners and designers to help and guide our clients during times of disruption," DiTaranti said. "With the newly released Ride to Recovery COVID-19 Response and Path Forward publication, NJ TRANSIT envisions a resilient, thriving future of transit in the region."
Pandemic impacts continue to be felt but the efforts documented in the publication demonstrate that NJ TRANSIT is taking lessons learned during the pandemic to influence improved bus operations; provide equity and access to transit for those who need it; deliver a system built with all riders in mind; and incorporate new technologies like electric vehicles and customer apps to deliver a smarter, sustainable, and more customer-friendly transit system for New Jersey.
For more information, contact Lisa DiTaranti.