The City of Norfolk, Virginia, Department of Recreation, Parks & Open Space, constructed a boardwalk for beach access at 9th Bay Street that will also be used as a prototype for future beach access locations along the city's public waterfront. Constructed up and over 20-foot dunes, the boardwalk exists to protect the beach dunes, while providing visitors with a non-intrusive option for accessing the Chesapeake Bay safely and easily. The selected materials and boardwalk design structure also align with the city's Coastal Resilience Strategy of proactively mitigating the impacts of future hurricanes and storm surge events. As a teaming partner to VIA Architects, VHB provided structural and civil engineering, environmental, permitting assistance, construction phase services, and survey.
The project required a combination of ramp and stair design to help navigate 20 feet of elevation change from 9th Bay Street up and over existing dunes and back down to the beach. The design incorporated enough height to protect the dunes' vegetation, which help anchor the dunes and make them resistant to erosion—a vital component of protection for the city's coastline. The material chosen was extensively evaluated and includes sturdy, large pieces of timber, larger than average fasteners, and stainless-steel metals, making the structure more resistant to future climate hazards. The project also included the installation of bike racks, benches at the top of the boardwalk, permeable parking lot improvements, and wayfinding signage.
"The City of Norfolk is investing in infrastructure, parks, and green linkages along their waterfront with the goal of making it more family-friendly, accessible and enjoyable, while also being proactive towards resiliency efforts," said J.D. Hines, VHB's Project Manager. "The city understands that this 7.3-mile stretch along Ocean View Avenue is precious beachfront. They are making enhancements to improve this area through new spaces for gathering and events, areas for recreation, and convenient methods for more people to access."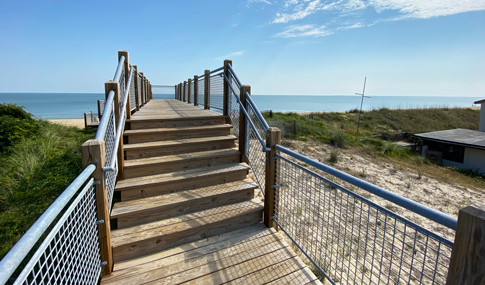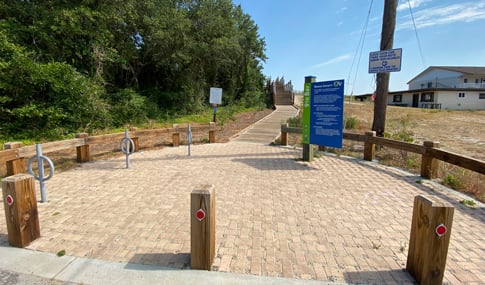 In addition to the beach access boardwalk, VHB is actively working in Norfolk on several resiliency projects aimed to strengthen and prepare the coastline against future hazardous events. VHB provided environmental and infrastructure services for the recently complete Ohio Creek Watershed project that involved a living shoreline restoration and infrastructure upgrades in the Chesterfield Heights and Granby Village neighborhoods. VHB is also providing environmental services for a living shoreline restoration as part of the future HeadWaters Resort & Casino project in Harbor Park, anticipated to open phase one in 2022. The restoration will include rock revetment, tidal marsh restoration, new plant life, and dredging for boat clearance to accommodate a future marina large enough for mega yachts.
To learn more about the 9th Bay Street beachfront access prototype, contact J.D. Hines.