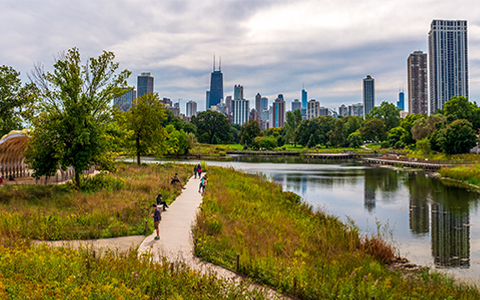 The National Park Service (NPS) released an Environmental Assessment (EA) for public review and comment this Fall. The EA would approve changes in and adjacent to a 4.6-acre section of Jackson Park. These changes are a result of the City of Chicago's approval of construction on the privately funded Obama Presidential Center (OPC) on the south side of Chicago. The unique circumstances of the project required substantial coordination among various federal, state, and local agencies for compliance with the National Environmental Policy Act (NEPA) and Section 106 of the National Historic Preservation Act (NHPA).
The City of Chicago received NPS grants in the early 1980s to improve recreation space in Jackson Park, part of which is now the site of the proposed OPC. NEPA was required for NPS approval to convert that space to a non-recreation use and find suitable substitute recreation space. In addition, Jackson Park is an historic Olmsted-designed park, and consultation with numerous agencies and consulting parties was required under NHPA Section 106. Federal-aid highway funds were proposed to alter park roadways to create new and connect disparate greenspace, requiring coordination between the Federal Highway Administration (FHWA) and Illinois Department of Transportation (IDOT).
Earlier this year, VHB was engaged to help guide an existing team of consultants through the NEPA process and NHPA Section 106 efforts, working with NPS as the lead agency, as well as the FHWA and IDOT. Because of VHB's extensive experience supporting NPS' NEPA process on projects nationwide, the team was able to navigate these complex relationships and help produce an EA that was acceptable to all agencies while making certain NPS-specific regulations and guidelines were followed.
On September 28, approximately six months after VHB joined the team, the EA was released for public review and comment. During this phase, VHB assisted the City with public meeting materials and public comment analysis to make certain that the complexity of the project continued to be communicated clearly and effectively and that the public's input on the federal action was considered. The EA can be viewed on the project website.
To learn more, contact Jennifer Morrissey, Senior Environmental Planner.