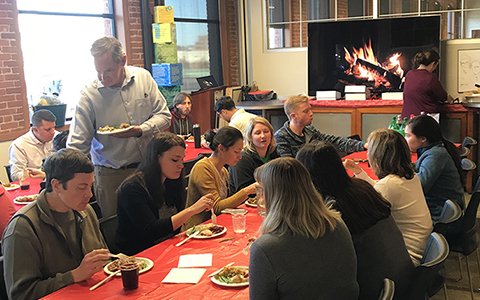 It's definitely not amateur hour when the Providence VHB Cares committee hosts events. "We're a well-oiled machine," says Rachel Dooley, a Transportation Engineer and one of the rotating co-chairs of the office's employee-led charitable group. Of course, things have been a lot different in recent months, but prior to Covid, the 20-person committee was hosting two popular events a month, each with a detailed task list, assignments, even how many pounds of ground beef to order for the tacos.
"Lunch is a common time for events here," says co-chair Shaina Jeffrey, Administrative Assistant. "We do Cinco de Mayo tacos, St. Patrick's Day Reubens, sausage and peppers for opening day at Fenway, and we kick off the year with soup and grilled cheese, because everyone loves grilled cheese." For every lunch event, there's a day-after event, where leftovers are put out for a reduced price. "Nothing goes to waste," says Rachel.
Lunches usually cost $8, and food is prepared by VHBers. For the grilled cheese event, the team invested in a set of griddles and makes up to 100 sandwiches, accompanied by three different homemade soups kept hot in crock pots. Expenses can be reimbursed from the proceeds, and the rest goes to VHB Cares-supported charities, matched by VHB.
The office's biggest event is the Teacup Raffle, which raised $1,700 in 2019—very impressive for an office of 50-60 people. Even snacks raise money. Genevieve Burke, Senior Project Designer, stocks a shelf with sodas and munchies from BJ's, and people leave a dollar in a basket for each item. This simple program raised $1,200 in 2019!
"Our Thanksgiving potluck is amazing," says Shaina. "Peter Grivers, our Remediation Team Leader, makes two full-sized turkeys in a trash can. He's a Scout Master, and this is a Boy Scout method he learned years ago." The team complements Peter's legendary turkeys with side dishes, and they deck out the conference room with tablecloths and a video of a roaring fireplace on a big screen for ambiance.
Sadly, in 2020 the team only got up to their Valentine's Day bake sale and raffle before Covid hit, but this is not a group that gives up! Instead, with support from Kathleen Keen, Project Manager, and Charles Altieri, Creative Design Coordinator, they moved online, with an auction and raffle to accompany their all-office meeting and celebration in December. Bob Clinton, Project Manager, reprised his role as Santa and drew tickets for the raffle, which raised $2,448—bringing the team's 2020 total to $3,824. While a bit off their 2019 total of $6,223, the team was still quite pleased with the results.
Asked what accounts for their tremendous success over nearly 20 years, Rachel and Shaina immediately said, "Our Managing Director, Joe Wanat. Without Joe, none of this would have happened. He helps with every event and always goes above and beyond. We have to tell him to put his hand down at the meetings or he would sign up for everything!"