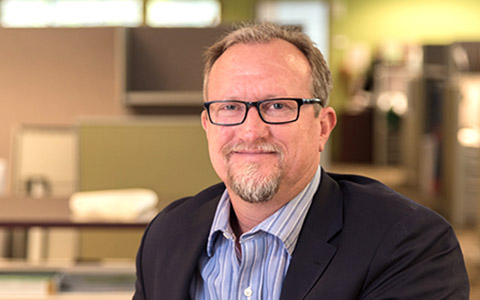 It is with great sorrow that VHB shares the sad news that Bill Bowers passed away on June 15 after a courageous battle with cancer. His wife of 29 years, Christina, was by his side.
Born and raised in Tampa, Bill grew up with a love of cars, fishing, surfing, and sports. The first few years of his career he spent down in Naples and Ft Myers, before coming back to the area that he loved to help open a Tampa office for WilsonMiller. He married the love of his life, Christina, on June 1, 1991 and they had two children—their daughter Kiah and son Justin. Kiah and her wife Diana recently had a baby girl named Ava, whom he absolutely adored and loved taking monthly trips to Disney with. An avid golfer, Bill's passions included playing, practicing, teaching, and watching the game. He knew everything about every player on the PGA tour and could mimic all their swings. Bill's love for his alma mater, the University of Florida, ran deep and he was a huge Gator sports fan—especially football.
Bill joined VHB more than three years ago and in his short time made a huge impact—growing the Tampa office from 6 to 20 tight-knit team members that offer a wide array of integrated services for the community. Bill, a recently appointed VHB Associate and Senior Landscape Architect, provided a steady and strategic voice from the very beginning of his time with VHB and was quickly identified as a leader for the office. He enhanced the team's visibility in a very short time—winning and supporting major, important projects and pursuits that propelled VHB forward, cementing them as local trailblazers enhancing communities in the Tampa Bay area. Bill was also extremely instrumental in growing a team that cared deeply about building and giving back to their communities.
Therefore, it did not come as a surprise when Bill was recently recognized as a VHB Culture Champion for celebrating and elevating our culture, leading by example as a VHB ambassador, and going above and beyond to drive important programs, events and volunteer efforts forward. He will be remembered for his mentorship of employees at all levels, especially for building up younger teammates to ensure they reach their full potential—he encouraged and wanted everyone to be the best they can be. Bill believed that fostering the excitement of education and constant learning builds a bright future. Having his colleagues or his children become excited about learning and sharing those experiences with others is one of the best gifts one can give, he felt, and Bill gave that gift to us all.
Not only did he work closely with his landscape architect colleagues, but he was also always willing to lend a hand and support our land development, design and transportation planning teams to help guide quality project delivery. A highly respected figure in his field, Bill was sought after in the industry to provide landscape architecture services with an understanding of other complex site issues.
Bill's passion for giving back and building relationships was second nature. He participated in every office outing, whether it was an obstacle course, running events, or community clean-up—he never missed an opportunity to support a good cause. In November 2019, Bill and his wife Christina participated in the Miles for Moffitt running event in downtown Tampa, where 30 VHBers and peers from Christina's firm, Tindale Oliver, came out to support him in his treatment for cancer at Moffitt Hospital. The Moffitt Cancer Center's new hospital was also one of Bill's legacy projects at VHB, as he was designing it while going through treatment there.
"This project (Moffitt Cancer Center) meant so much to him. His passion for healthcare related work and his personal understanding of the patient experience was remarkable because he was living it real time," reflected Bill's close friend and colleague, John Eveland, Gulf Coast Director of Land Development.
VHB's Gulf Coast office is teaming up with Tindale Oliver again this year as Team Bowers for the Miles for Moffitt event in downtown Tampa on October 24, 2020.
"Bill always approached work and his colleagues the same way he approached other aspects of his life – with a positive attitude and always willing to help others. Each of us can take Bill's attitude and make our community a better place." said Ben Siwinski, Gulf Coast Managing Director.
Those who know Bill describe him as a consummate professional, amazing mentor, trusted leader, avid golfer and gardener, and a compassionate friend. He touched many lives during his career inside and outside VHB and his smile brightened up the office every day.
As an expression of sympathy, memorial contributions may be made to:
Please keep Bill's family in your thoughts and prayers.