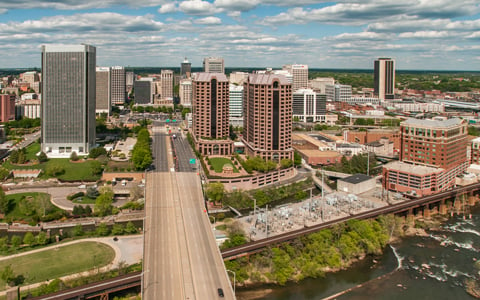 Contract closing is officially complete on the redevelopment of the public safety building site known as 500 North 10th, formerly "Block D" of the proposed Navy Hill project. The 3-acre site, now owned by Capital City Partners, will include a 20-story VCU Health building and mixed-use office complex. VHB is providing site civil engineering and transportation planning as part of asset repositioning.
Located adjacent to the MCV Campus at Virginia Commonwealth University in Richmond's downtown, the facility will provide new health services and patient family support to VCU's downtown campus. In addition to providing administrative and office space for VCU Health, the property will include 145 guest rooms and office space for The Doorways, a non-profit that provides lodging and support for patients and their loved ones, and 60 guest rooms and office space for The Ronald McDonald House Charities of Richmond, a non-profit that provides housing for families with children seeking medical treatment. The building will also include a childcare facility, approximately 1,200 parking spaces, a pharmacy, retail shopping, and dining.
"With a local office and strong ties to the City for more than two decades, it is exciting to be a part of such a multi-faceted project that will enhance our downtown," said Diane Linderman, Managing Director of VHB's Richmond office. "This project combines our firm's integrated service knowledge of real estate, site design, urban planning, healthcare, and transportation planning that will enhance the project's real estate value, provide a positive experience for the end user, and deliver ease of access whether arriving via vehicle, public transportation, or on foot."
Part of the new block includes connecting East Clay Street between North 9th Street and North 10th Street. VHB is providing site design, stormwater management, utility relocation, surveying, roadway design, and traffic analysis. Philadelphia-based KieranTimberlake and Richmond-based SMBW are the architects, Waterstreet Studio will provide landscape design services, and DPR Construction and Canterbury Engineering are the general contractors.
VHB's Richmond office partners with developers, brokers, and architects to deliver site engineering solutions that enhance property value. Notable recent projects across the Richmond region include Willow Lawn Shopping Center, City View Marketplace Mixed-Use Development, Artisan Hill Apartments, and West Broad Marketplace.
To learn more about VHB's Richmond office, visit their office page on our website, or contact Diane Linderman at dlinderman@vhb.com.