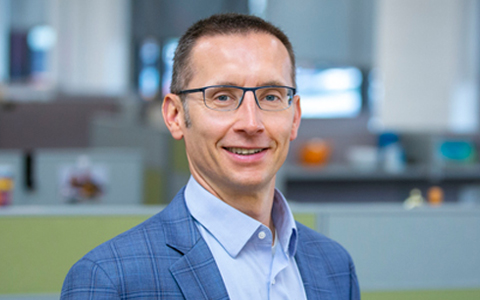 VHB welcomes Rick Plenge, PE, PTOE, Senior Project Manager/Regional Active Transportation Service Leader, to its Massachusetts practice and the New England Markets.
Rick joins VHB with 25 years of experience, which includes multi-modal transportation operations and safety analysis, roadway and geometric design, enhanced transit facility operations and design, and innovative pedestrian and bicycle facility planning and design. He brings a vast understanding of transportation industry best practices and continues to support the awareness of active transportation as a multimodal trainer for a variety of professional organizations and state and local agencies across the country.
Prior to VHB, Rick served as the New England Planning Department Manager and co-leader of the national Complete Streets practice for a global AEC company. Rick has a long history of working with key clients throughout Massachusetts and New England to improve mobility and enhance communities. Most recently, Rick's work has included the City of Cambridge River Street Reconstruction Project, NHDOT Ocean Boulevard Corridor Study, MassDOT Managed Lanes Screening Study, City of Newton Washington Street Planning and Design, MBTA Bus Planning GEC, and the City of Boston Slow Streets.
"Rick brings a diverse skillset and perspective to our transportation practice," said Mike Regan, PE, PTOE, Managing Director of Traffic Operations at VHB. "Rick's innovative approach and understanding of complex projects will be a great benefit to our clients and VHB as we continue to deliver sustainable, equitable, active transportation solutions."
Rick has been an active participant in a variety of panel discussions and webinars discussing bicycle implementation and design, complete street design, and pedestrian facility design. He is a recurring presenter as part of ASCE's Continuing Education Series on Innovative Bicycle Facility Design and recently presented at the 2020 Walk-Bike-Place Bi-Annual Conference—Best Practices Session. Rick is also a frequent guest lecturer at Northeastern University's ITE chapter and is an active committee member with WalkBoston's pedestrian advocacy organization.
Rick received his B.S. in Civil Engineering from the University of New Hampshire. Connect with Rick at rplenge@vhb.com.