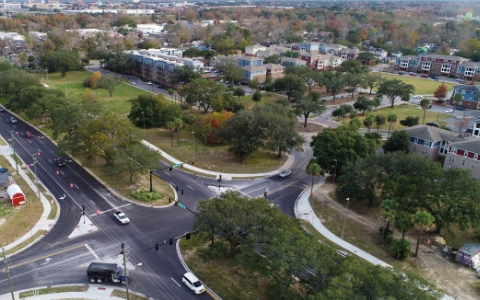 The Bay Street Widening project in historic Savannah, Georgia, was recently recognized with two prestigious industry awards: a 2020 Engineering Excellence Award from the American Council of Engineering Companies (ACEC) of Georgia and a 2019 Preconstruction Award for Urban Design from Georgia Partnership for Transportation Quality (GPTQ).
VHB partnered with Chatham County to balance sorely needed roadway improvements with historic preservation along an important stretch of Savannah's iconic Bay Street to support the city's wave of economic growth and revitalization. As the prime project consultant, VHB provided conceptual design, preliminary and final construction plans, right-of-way plans, stakeholder engagement, and permitting as part of a roadway widening project to ease traffic congestion and improve pedestrian mobility on an increasingly important corridor.
The team gathered input from neighborhood associations, community leaders and business owners on Bay Street to write and design historical markers at five locations for West Savannah and Hudson Hill Communities. Integrating the new markers and preservation of 18 large live oak trees into a challenging project area with a high volume of pedestrian and truck traffic gave distinction to ecological and cultural items in a city that cherishes its history. The addition of a raised median eliminated mid-block turns and reduced crash frequency along a roadway with two to three times the statewide crash site average. The addition of turn lanes improved traffic operations along the corridor, while the inclusion of three pedestrian hybrid beacon signals provided protected crossings for pedestrians.
"We are honored to receive two prestigious awards for the Bay Street Widening project," said Fabricio Ponce, Managing Director, VHB Atlanta. "Bay Street is the gateway to Savannah from the west, so this project was an opportunity for VHB to work with a wide variety of city and state constituents, from the City of Savannah to Georgia Department of Transportation to long-established neighboring businesses. We do our best work when we build consensus for tomorrow together."
The GPTQ Preconstruction Award recognizes large projects in densely developed areas within an urban environment that successfully integrate surrounding land use while handling large volumes of traffic. The ACEC Engineering Excellence Awards recognize projects that demonstrate the highest degree of merit and ingenuity, including future value to the engineering profession and social, economic and sustainable development considerations.
The VHB team was led by Project Manager Matt Thompson, PE, along with Tommy Crochet, PE, PTOE, Transportation Design Lead, Southeast Region.