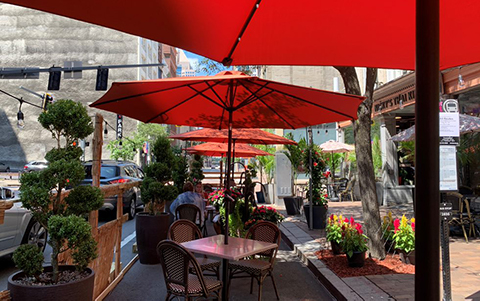 VHB hosted a Virtual Roundtable with industry leaders to share best practices and learn from the vast knowledge base of fellow participants representing a diverse array of municipalities and departments of transportation.
The ability to prioritize and encourage the enhanced use of outdoor space in a manner that allows pedestrian/bicycle use and promotes economic activity while remaining socially distant has become a growing trend in response to COVID-19. Options being implemented or considered include:
Shared or Slow Streets
Street Closures
Pedestrian Plazas and Parklets
Widened Sidewalks
During the discussion, participants addressed near-term community needs due to the pandemic and how those needs can help advance existing community goals. For example, wider bike and walking paths help maintain social distancing and avoid overcrowding while also accommodating for essential travel and emergency services. The leaders involved in the roundtable stressed the importance of balancing bold, creative thinking with practical solutions for our modern reality.
The challenges of these unprecedented times also are giving way to new opportunities for communities. Many cities are implementing pilot programs in response to COVID, allowing cities to test and tweak options, as well as creatively apply existing codes and approval processes associated with permanent infrastructure improvement projects, resulting in an expedited process—with many adapting their own requirements to quickly advance projects. City governments are also collaborating and partnering with local businesses and neighborhood engagement groups to develop solutions to help all businesses succeed, whether an independent bookstore or a restaurant.
Our modern reality presents obvious challenges, one of the most pressing being planning without precedent. This is a new environment for everyone; there are no set criteria to follow. Cities, towns, and municipalities that can adapt and be flexible in approach may benefit from the opportunities to evolve. Given the "real-time" nature of these adaptations, the group agreed it would be important to monitor how these improvements transitioned into the winter season and if any permanent change in attitudes concerning the sharing of streets results.
Read about VHB's other Virtual Roundtables with thought leaders across the A/E/C industry, including in the real estate, higher education, and energy markets, on Viewpoints.