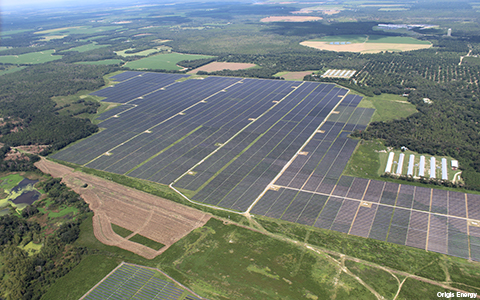 There is a growing trend in the sunny southeastern U.S. of landowners converting long-standing agricultural land to in-demand solar farm facilities. In Alabama and Georgia, former peanut and corn farmers see the benefit in parceling off land to an increasingly lucrative, and sustainable, product: solar farms. VHB's energy practice and environmental sciences team recently completed environmental site assessments (ESA) on two pieces of land in rural Georgia and Alabama for landowners entering the growing renewable energy industry. The acreage involved for the two solar farms is enough to generate clean, pollution-free power to almost 30,000 homes.
At developer Origis Energy's solar farm in Mitchell County, Georgia, and Clenera's Chambers County, Alabama, solar farm, environmental due diligence is helping determine whether amenities or contaminants currently or previously onsite would hinder development or financing. This is particularly important if the land had prior agricultural uses that could involve contaminants. ESAs for solar farms involve both historical research and site work. The team walks the site for evidence such as old chemical storage tanks that may have housed hydraulic fluids from tractors or farming equipment. Standing water with sheen or staining on the soil must also be analyzed. Historical photography and Environmental Data Resources (EDR) reports with historic plats can provide evidence of prior activity on the land. ESA work on solar farm sites also includes topographical and geographical surveys, wetland delineations, sediment and erosion control plans, and recommended mitigation measures.
On the Georgia site, VHB provided listed species habitat surveys for gopher tortoises and endangered bats, buffer delineations for tree clearing, and cultural resources screenings. In Alabama, the team also produced jurisdictional water surveys and cultural resources screening surveys and used geographic information systems (GIS) to map the project area.
"Even if a project won't impact residents or cause major land disturbance, it is still important that solar farms are built on clean and clear property," said Todd Hill, VHB Environmental Project Manager. "Our assessments help owners minimize site preparation costs, maximize solar exposure, and incorporate sediment and erosion control plans to stabilize the land for solar facility construction and operations."
VHB's extensive knowledge of solar farm development, coupled with our planning and environmental experience, helps guide solar companies and landowners through the environmental, permitting and site survey, entitlement acquisition, and environmental engineering process. The Georgia and Alabama projects are in addition to 11 other solar projects VHB is currently working on in the southeastern U.S.
The 1200-acre Alabama site is a large, utility scale farm with over 330,000 solar panels that have the capacity to provide 79 megawatts of power to 17,000 homes. It is a significant source of renewable energy for local retail giant Walmart, which is incorporating sustainable practices. The 744-acre Georgia site could provide 57 megawatts of power to more than 12,000 homes. The renewables industry is expanding in other ways across the south, including a new solar panel manufacturing plant in Dalton, Georgia, bringing economic benefits to the region while contributing to reductions in greenhouse gas emissions. The growing solar power industry in the state is helping to build a sustainable future for residents and employers.
For more information about how VHB's energy and environmental science team balances infrastructure needs with stewardship of the environment, contact Shannon Ruby Julien, Director of Energy and Environmental Services, at srubyjulien@vhb.com