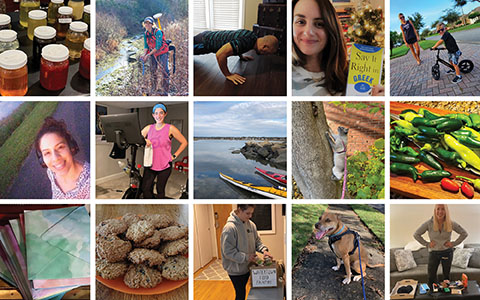 Back in October, with the pandemic in full swing and no end in sight, VHB Cares co-chairs Kathleen Keen, Traffic Operations Project Manager, and Brianne Belschner, Design Technology Specialist, came up with a brilliantly simple idea to get colleagues engaged in supporting others while breaking out of our ordinary routines: Try 20 of something new in 2020, share it on Yammer, and VHB would donate $20 per person to VHB Cares, the company's employee-led charitable organization.
Thus, #20in2020 was born, ultimately raising $1,820 for charity with 91 people from Maine to Florida participating. The results prove once again that VHBers are an amazing bunch of creative, talented, civic-minded people! While other VHB Cares events have raised more money, this event was notable for the camaraderie and connections it fostered during a time when so many people across the country are feeling disconnected.
One of the most rewarding aspects of the challenge was learning a little something about each other. Alex Levy, Senior Ecologist, grew a plethora of peppers in his front yard. Sara Forbes, Marketing Manager, loves to sea kayak. Brian Parkinson, Railroad Operations Analyst, is keeping alive the lost art of letter writing. And Matthew Duranleau, Traffic Operations Project Consultant, is now an expert on the history of Rome—just to name a few!
We look forward to bringing back our fantastic in-person charitable events as soon as possible. In the meantime, we know that even a global pandemic can't shake our spirits and our commitment to giving back to the communities where we live, work, and play.