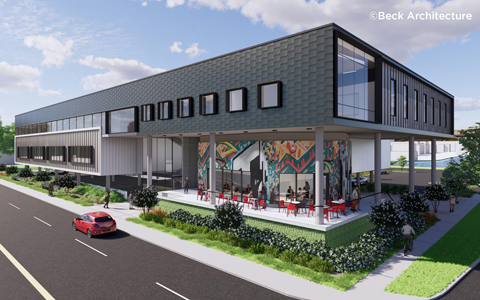 In 1914, St. Petersburg, Florida, made its mark as the site of the first U.S. commercial airline flight—all the way to Tampa. No stranger to doing big things, the city received national attention again in 2020 for setting significant sustainable community goals with help from its Integrated Sustainability Action Plan completed with VHB planners. Now VHB is helping meet plan objectives as civil engineers for Pinellas County's new Innovation Center, a signature business incubator building for the burgeoning Innovation District in downtown St. Petersburg. Scheduled to open in 2023, the Center's new home is helping revitalize an underserved area on the shores of Tampa Bay and provide support for entrepreneurs via business programs and mentorship of early stage ventures.
The 45,000-square-foot, multi-story building will be located on a 2.5-acre parcel at the southwest corner of 11th Avenue South and 4th Street South. The Innovation District already houses the USF St. Petersburg campus, two hospitals, and a marine research facility. Since its formation four years ago it has spurred job growth and hopes to attract new business and foster collaboration in research, life sciences, academics, and technology.
The Innovation Building will be located just a few blocks from the Tampa Bay Ray's Tropicana Field, which is poised for substantial redevelopment with a recent call-for-proposals based on a comprehensive site study provided by VHB. An integrated team of VHB transportation planners, land developers, environmental scientists, landscape architects, and civil engineers are working together to plan a resilient building and landscape that takes factors like social equity, climate change, and extreme weather threats under consideration.
"City planners had previously moved to help mitigate susceptibility to storm surge via building restrictions for locations in the floodplain deemed Coastal High Hazard Areas—areas below the surge line for a Category 1 storm," said Alex DeYoung, PE, Project Manager. "The Innovation Center is located in that area, so we knew we had to set a high standard for resilient design and construction."
From land entitlements to wetlands delineations and endangered species surveys, VHB's deep knowledge will be instrumental in expediting permitting and advancing design and construction. Innovation Center will model resiliency and be built to U.S. Green Building Council (USGBC) Leadership in Environmental & Energy Design (LEED) Gold standards. Key features include:
First floor will be elevated at least two feet above the FEMA flood plain.
Mature trees will be preserved where possible.
Low impact stormwater design will be incorporated including pervious pavement and Florida native vegetation.
Efficient HVAC systems will reduce costs and improve energy efficiency.
"This building embodies many of St. Petersburg's sustainable community objectives laid out in the ISAP, in particular the need to address equity by bringing jobs and opportunity to a previously underserved area, and modeling best practices in green design and construction for future members of the District," said Alex. "It will have a lasting impact as a healthy community catalyst."
VHB is a subcontractor to Beck Architecture on the project. The client is Pinellas County. Read more about how VHB is helping communities become more resilient.