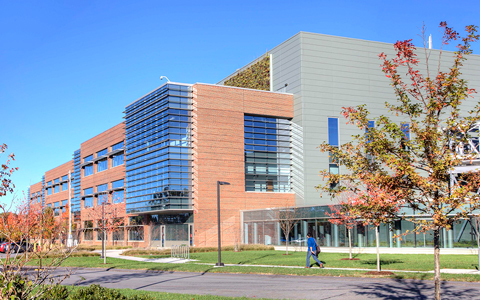 A once flourishing facility, home to 25,000 military and civilian personnel, Fort Devens Military Base was closed in 1993 after more than 100 years of continuous use by the United States military. The former base is being repurposed and is now recognized as a regional enterprise zone—Devens is spread across 10,000 acres, residing in three Central Massachusetts towns, Shirley, Harvard, and Ayer.
Chapter 498 of the Acts of 1993 designated MassDevelopment to redevelop the property over a 40-year term and set aside funding for that purpose. With help from VHB, MassDevelopment has strategically repositioned the Fort Devens asset and revitalized 4,400-acres to become a sustainable and diverse mixed-use community. The award-winning model for military base reuse is now home to more than 100 businesses, with a collective 6,000+ employees. Devens contributes an estimated $3.8 billion to the $600 billion Massachusetts economy.
More than 25 years ago, VHB first began working with MassDevelopment (then the Massachusetts Government Land Bank), leading a Massachusetts Environmental Protection Agency (MEPA) review, preliminary development strategies, and reuse planning services for the site. The reuse plan consisted of three key themes of open space and recreation, innovation and technology related business development, and inter-modal transportation uses. As a result, Devens saw immediate economic and development results, which included large corporations like Gillette, Parker Nichols Aircraft, and PharmEco setting up manufacturing, research and development, and corporate campuses on the former base.
With completion of the environmental and land use reviews, MassDevelopment has uniquely positioned Devens to attract large corporations looking to relocate or establish a presence on the East Coast. In 2006, when Bristol Myers Squibb (BMS) was in a world-wide site search to build a biopharma and manufacturing campus, MassDevelopment courted BMS with the promise of a 45-day permit turnaround. Upon recommendation by MassDevelopment, VHB teamed with Fluor, a global construction design company, to provide integrated master planning, survey, landscape design, site civil engineering, and permitting support services including traffic impact, wetland delineations, air quality and noise modeling analyses to meet Bristol Myer's aggressive schedule. The pharmaceutical giant began construction immediately and continued their race to production and FDA approvals for a newly patented rheumatoid arthritis medication.
Less than four years following construction completion of phase 1, which included a central warehouse, raw material and chemical storage buildings, a central utility building, a large scale cell culture manufacturing facility, and admin building, BMS announced a major expansion—making the facility their world headquarters for biologics, consolidating their intellectual capital to the Devens site. This launched the second phase of construction, incorporating a new biologic research and development building and a clinical manufacturing facility—creating flexibility for BMS to develop medications in smaller campaigns for clinical trials and accelerate the FDA review and approval process.
In 2019, after acquiring/merging with Celgene, Bristol Myers Squibb immediately began design and construction of a state-of-the-art cell therapy manufacturing facility to support patients with aggressive forms of hematological cancer. The complex facility adds a 240,000-square-foot building to the already massive campus and is expected to create hundreds of new jobs upon completion at the end of 2021.
The Commonwealth is no stranger to the life science sector, with Boston-Cambridge being considered the hub for many biopharma companies, but due to the demand for space and the shortage of inventory, many pharmaceutical companies are looking beyond the City to find the space they need, making Devens an interesting possibility.
VHB is currently working on several life science and distressed asset repositioning projects at Devens, and throughout the Commonwealth. To learn more about these projects, please contact Curtis Quitzau, PE, ENV SP, Director of Land Development, VHB at cquitzau@vhb.com.