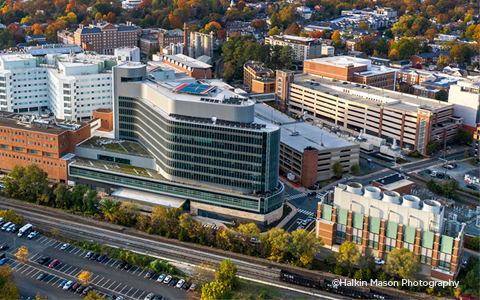 Engineering News-Record (ENR), one of the engineering and construction industry's most authoritative publications, announced its Best Project winners across the Mid-Atlantic region last month, and two University of Virginia (UVA) projects took home awards. The Brandon Avenue Green Street and Utilities Infrastructure project received the Best Project in Landscape/Urban Development, and the UVA Health System, University Hospital Expansion Plinth Tower and Enabling received the Best Project in Healthcare. VHB was part of the design team for both award-winning projects led by global design practice, Perkins+Will.
Brandon Avenue Green Street and Utilities is one phase of UVA's master plan initiative that focuses on redevelopment for the entire Brandon Avenue corridor and adjacent parcels. The master plan exists to transform this once dead-end corridor into a vibrant, urban outdoor space that serves as both a destination for engagement and a connection between University Grounds and UVA Health System. The Brandon Avenue Green Street and Utilities project included the completion of a streetscape that incorporated an open green space system, parking, bicycle infrastructure, transit connectivity, and stormwater features. VHB provided transportation support for the green street design of Brandon Avenue, including pedestrian accommodations, bicycle lanes, transit stops, and emergency vehicle access. VHB was also instrumental during the planning phase of the project with existing condition parking and traffic guidance.
To the east of the Brandon Avenue Green Street and Utilities project lives UVA's Health System and the newly completed University Hospital Expansion Plinth Tower and Enabling facility. UVA identified the need to enhance inpatient and outpatient clinical experiences and provide flexibility for future medical technology developments. This $288-million multiphase project included 440,000 square feet of new clinical/support programming (three-story hospital expansion and a six-story bed tower), as well as 90,000 square feet of phased existing facility renovation. VHB provided site planning support, which included realigning Crispell Drive, separated ambulance access along Crispell Drive, utility infrastructure upgrades, and stormwater management. VHB also evaluated site opportunities and constraints, including prospective site yield, earthwork volumes, utility services, stormwater management, and transportation access and connectivity.
Both campus projects reflect the University's commitment to its students, faculty and surrounding community to create an improved campus experience, a campus of connectivity, better healthcare through world-class facilities, and the preservation of history that makes UVA's campus unique. Congratulations to Perkins+Will for their achievement as the lead design firm. Their strong commitment to the University and leadership of design partners was reflected in both successful project outcomes that will influence this campus community for decades to come.
To see the full list of the 2020 Mid-Atlantic Best Project award winners, visit ENR's Mid-Atlantic Awards page.