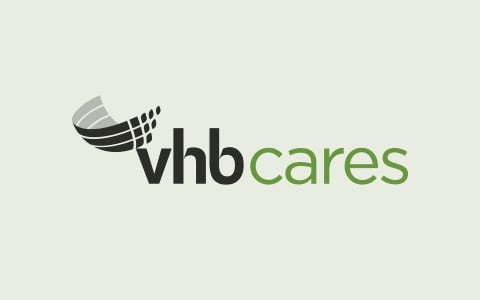 In our 23rd annual VBay auction, VHB and our employees raised more than $62,000 for VHB Cares-supported charities, chosen by employees in each office across our footprint. This brings charitable donations since the firm's founding to more than $4 million and counting.
As usual, this signature VHB Cares event did not disappoint. There were some familiar favorite items, like the Cases of Wonderful Wine donated by President and CEO Mike Carragher and his wife, Staff Meeting Storytime with Joe Wanat, Managing Director of our Providence office, and Laura MacFadgen's famous Mexican Hot Chocolate Brownies. Fun new items included Tidal Bore Rafting donated by John Stronach, Dinner with Fin Bonset, Director of Aviation Services, and a Butterfly Baby Quilt, donated by Stephanie Kruel, just to name a few. And let's not overlook the daily raffle, which doled out some fantastic prizes this year.
Take a look at what VHB Cares has meant to VHBers over the years.
"I am once again humbled by VHBers' generosity, creativity, and passion for giving back," said President and CEO Mike Carragher. "It's something that sets VHB apart and contributes to the sense of accomplishment and reward I know I feel being part of this thoughtful, caring organization."
VBay, the company's largest charitable event, is complemented by other VHB Cares fundraising and volunteer events throughout the year (with some necessary exceptions during the pandemic), including the VHB Jimmy Fund Golf Tournament, which over the past 26 years has raised more than $1 million to support cancer research at the Dana-Farber Cancer Institute.
"At VHB, giving back to our communities is a priority, one that has defined our culture from the beginning," said Rob Nagi, VHB Principal and Senior Project Manager and one of the early and long-time leaders of VHB Cares. "I'm proud to be part of VHB's strong and ongoing history of philanthropy, especially in these challenging times when so many are in need."
Special thanks to Brianne Belschner, Design Technology Specialist, and Kathleen Keen, Project Manager, who lead this remarkable event each year and manage VHB Cares' day-to-day operations. Together we have made a difference in many lives and communities where we live and work.