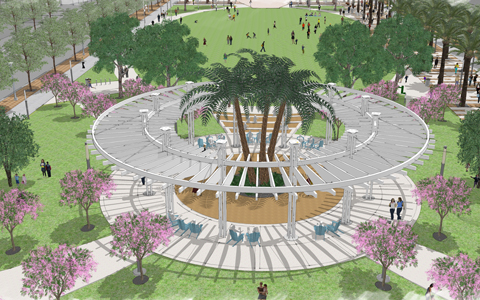 Students, seniors, and office workers in Downtown Orlando's Creative Village have something to look forward to in 2021. The City of Orlando broke ground this week on a highly anticipated 2.3-acre public park and central gathering space for the thriving new urban area. Luminary Green, designed by VHB landscape architects, urban planners, and civil engineers in partnership with the master developer Creative Village Development, will be the outdoor "living room" of this fast-growing area that includes UCF Downtown, Valencia College Downtown, thousands of residents and office workers, new restaurants and retail, and the surrounding historic Black community of Parramore.
Bordered by mid- to high-rise buildings with apartments, student housing, education space, retail, and a future corporate office for EA Sports, the park significantly expands greenspace downtown. Its northern zone will have a raised elevation for optimal, unobstructed views of the Orlando skyline across a multi-use great lawn. An intentional, place-making focal point of the urban village will be an 80-foot-wide North Trellis structure featuring colored LED lighting and flexible seating for pedestrians.
"The location of Luminary Green as the centerpiece of Creative Village lends credence to how important public parks are in urban areas," said Chris Brown, Senior Landscape Architect. "Considering the pedestrian experience and meeting the needs of park users of all ages and backgrounds was prominent in our planning."
VHB worked closely with the developer to deliver a park that reinforces Creative Village and the Parramore community's sense of place and identity through smart-community design and planning. The team's previous work preparing the Parramore Comprehensive Neighborhood Plan informed the design of the park around principles of healthy community design and economic development, such as promoting access to healthy food, investing in people and not cars, and encouraging mixed-use development. The park is a significant new urban amenity that contributes to healthy living, exercise, entertainment, and respite for downtown users.
Luminary Park's amenities will reflect its new name by honoring community leaders via enhanced lighting, sound, graphics, and technology improvements. It is poised to become a key destination and signature spot in Creative Village, uniting Downtown Orlando neighborhoods and connecting significant destinations and parks such as Lake Eola Park, Dr Phillips Performing Arts Center Plaza, and the future Under-I Park project.
To learn more about the VHB integrated approach to landscape design and planning, contact Chris Brown.