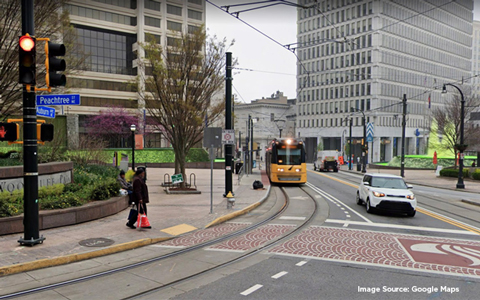 Metropolitan Atlanta, Georgia, is known as much for Southern hospitality as its robust economy. The region ranked #2 of the Top Moving Destinations in the U.S. in 2020. The number of people on Atlanta's streets and sidewalks is growing consistently by the day, and with that comes a heightened concern for safety. The region's metropolitan planning organization, the Atlanta Regional Commission (ARC), recently enlisted VHB to develop a comprehensive Regional Safety Strategy that addresses transportation safety issues across the region and offers a roadmap for making smart, data-driven decisions informed by the community. The Strategy is a move toward safer streets for everyone, with an emphasis on multimodal transportation that recognizes the different safety concerns of all road users.
Metropolitan Atlanta's size and scale means many factors must be considered to address safety. VHB's safety practice brings diverse research and engineering experience in transportation safety from communities across the U.S., which will be instrumental in moving a project of this scope and size forward. VHB's local knowledge and multimodal experience in Atlanta will be critical to linking the Strategy with additional State and local safety plans and initiatives.
The Strategy's data-informed approach is a foundational element of smart community planning and design and emphasizes research and predictive modeling to inform transportation safety policies, practices, and infrastructure. Examples of the data the VHB team will analyze include crash data, roadway characteristic data, traffic volumes and exposure, transit ridership data, and more.
"If we understand the risk factors, we can identify safety strategies to protect people," said Frank Gross, Safety Practice Leader. "By cross-comparing data in tabular format we can start to identify potential relationships, and by using more advanced statistical modeling techniques we can really draw out the underlying relationships between crashes, roadway attributes, and land use characteristics that may not be apparent otherwise."
The safety modeling process will also help identify areas of social inequality with risk factors that could lead to issues like pedestrian and vehicle crashes. For example, the models can predict vehicular and non-motorized crashes based on roadway factors such as traffic volume, number of lanes, median type, posted speed limit, and transit access; and socio-economic factors such as population density, unemployment, average vehicle ownership, and percent of households in poverty.
Another strength of the new ARC Strategy, which is expected to be complete in 2022, is in its attention to the range of urban and suburban safety data and community priorities. Stakeholder engagement will be comprehensive and include in-person focus groups and workshops, as well as virtual public meetings and electronic surveying of a wide swath of metro Atlanta residents, nonprofits, neighborhood groups, educational entities, and businesses.
"The Regional Safety Strategy is a first-of-its-kind for the region and will have a big reach," said David Pickworth, Transportation Engineering Manager. "The Strategy's short- and long-term recommendations for safer streets will be used by various jurisdictions, metropolitan planning agencies, and community organizations. It will drive innovation in the region, and support safety programs and mobility strategies that have a long-lasting, positive impact on Atlanta residents and visitors."
The Georgia Department of Transportation is a partner in the ARC Strategy, enabling both organizations to move in the same direction with safety priorities that recognize both the state's safety goals, as well as the unique needs of the region.
VHB's transportation team is helping to move forward many projects making an impact in Atlanta, including previous work with ARC on a regional bicycle and pedestrian safety plan, a transit master plan for DeKalb County, and a feasibility study for the expansion of light rail with the Atlanta BeltLine.