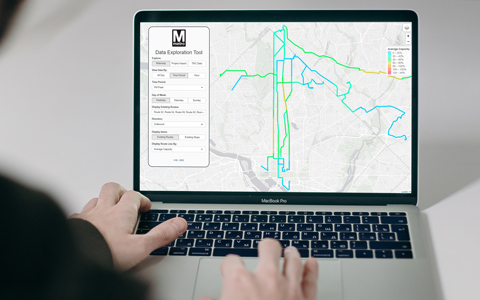 VHB developed their latest technology-enabled tool, DataTripper, to provide transit agencies with a user-friendly web application for analyzing and utilizing data. The need stems from the desire to create a faster, easier way to interpret transportation data that has traditionally been cumbersome and fragmented, requiring more time and resources to make connections and find trends. DataTripper takes a fraction of the time associated with traditional travel data analysis methods and allows users to explore the spatial dimensions of data with the click of a button. This customizable web-based tool uses interactive maps and empowers agencies to make data-informed decisions about their transportation systems and services moving forward.
DataTripper combines different data sets from varying sources depending on the need of the user. Once collected, these data sets are merged into one interactive web-based mapping tool, allowing the user to conveniently toggle between different sets of information, which could include ridership capacity, existing routes and stops, time of day, direction, and day of week. By being able to easily access extensive layers of data in an easy to use format, transit agencies can make data-informed decisions to improve mobility services and enhance community connectivity.
"To better understand transportation systems and how they impact our communities, we must understand data to make smart decisions on routes, schedules, and capacity," said Federico Tallis, VHB's creator and developer of the technology. "As technology has evolved, so has data, and the tools typically found in the transportation planner arsenal may no longer be the best for understanding data trends, connections, and determining recommendations. By leveraging our technology capabilities and programming knowledge, we developed DataTripper to help transit agencies better understand their systems and be able to make future decisions for project prioritization, safety needs, and funding moving forward."
DataTripper was used for the Washington Metropolitan Transit Authority (WMATA), who wanted to develop an understanding of how a 110-acre medical center redevelopment project was going to impact the future demand for Metrobus routes, leading to an evaluation of bus service alternatives. By utilizing DataTripper, the team was able to forecast the impact the redevelopment's forecasted transit demand could have on the capacity of each of WMATA's existing Metrobus routes and determine where additional service was required to provide sufficient passenger capacity and coverage.
Today, VHB has utilized DataTripper with various local government and state agencies across the East Coast. In the Atlanta, Georgia, region, DataTripper was used in multiple jurisdictions to better understand ridership patterns and develop recommendations for service improvements. For the Metropolitan Atlanta Rapid Transit Authority, DataTripper was used to guide the agency on where to focus bus stop improvements. Montgomery County, Maryland, also relied on DataTripper to help make decisions about the routing of a future bus network and the location of transit priority improvements by analyzing schedule adherence data for bus routes, including total dwell times at each stop, and early arrival and delay times.
DataTripper allows transit agencies to be data-informed and empowered by technology. As they plan, design, and build for the future, this tool helps them make well-informed decisions to create equitable, accessible transit solutions.
Interested in learning more about the realm of possibility with the DataTripper tool, or seeing a live demo of the technology? Contact Federico Tallis.