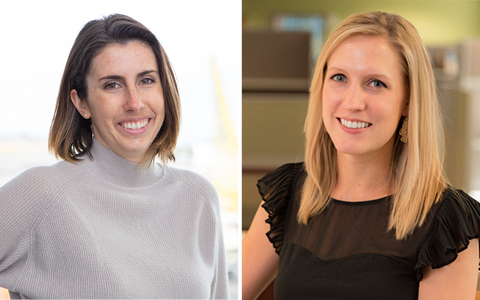 VHB congratulates Van Du, Lauren Ballou, and Sierra LePore for recently completing the Institute for Sustainable Infrastructure's (ISI) Envision Verifier training. The three women previously earned their Envision™ Sustainability Professional (ENV SP) credentials in 2016 and have since been involved in numerous Envision assessment and verification projects. In total, VHB has certified nearly 100 ENV SPs, with more than 10 team members who are Envision Verifiers and/or have been actively verifying projects in the past year.
The Envision™ Rating System was developed by ISI and the Zofnass Program for Sustainable Infrastructure at Harvard University's Graduate School of Design. VHB is a strong proponent of this rating system due to its holistic approach to planning for horizontal infrastructure projects—considering environmental, social, community, and economic factors. VHB strives to incorporate sustainability into the delivery of services and into day-to-day operations and actively encourages our clients to consider using the Envision framework for their transportation and infrastructure projects.
In 2012, VHB became a Charter Member of ISI to keep our clients at the forefront of sustainability. The VHB team brings extensive experience and resources devoted to sustainable operations and design concepts. Since 2018, VHB has worked with ISI on an on-call contract as a qualified third-party Verifier team, supporting the review and verification of project submittals. This team is led by Susan Nichols, Lauren, Sierra, and Van, with additional support from other ENV SPs at VHB. To date, VHB has been assigned as Verifier on three completed infrastructure improvements projects and is stewarding five additional projects through the verification process.
VHB also successfully assisted the Massachusetts Department of Conservation and Recreation (DCR) with the submittal of Greenough Greenway project, which received a v2 Bronze Award, and has partnered with transit agencies to integrate the Envision framework into their infrastructure improvement projects.
"We are excited to expand our Verifier team and are proud to continue to support the AEC industry, ISI, and our clients in advancing sustainable solutions through the Envision verification process," said Ryan Prime, VHB Sustainability Practice Leader and Envision Trainer.
To learn more, please contact Ryan Prime, VHB's Sustainability Practice Leader.