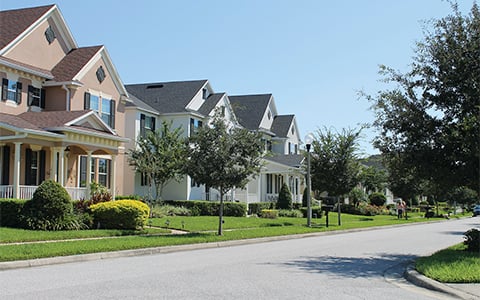 The U.S. is facing a housing crisis, and COVID-19 has exacerbated the problem. The AEC industry is positioned to address the products, policies, and financial mechanisms that prevent many middle-class Americans and first-time home buyers from buying an affordable home. Are we up to the challenge of developing new, innovative ways to help more people become housed within their means?


VHB recently held a Virtual Roundtable with public and private sector leaders from the architecture, banking, planning, real estate, and construction industries for a candid conversation about the barriers to attainable housing in their communities. Moderator Leonard Burke, Director of Asset Management with Beneficial Communities, challenged participants to develop new, innovative ways to make a difference, especially in a post-pandemic economy.
The Urban Land Institute (ULI) generally defines attainable housing as non-subsidized housing for sale or rent that is affordable to moderate income home buyers—a price point that past generations could meet more easily.
Participants expressed that it will take a multi-faceted, aggressive approach to make a difference in the short- and long-terms. Some of the challenges and solutions discussed included:
Bigger is not better. New generations of first-time homeowners do not want super-sized housing. Single family homes have increased exponentially in size since the suburban building boom of the 1950s; however, millennials value experience over possessions. Unfortunately, impact fees are a deterrent to building smaller homes.
Income inequality is hindering the market. Incomes have significantly risen in top-tier earning families but middle-income wages lag far behind. Policy efforts to address social equity will benefit the housing market. A government stimulus would help make housing accessible to a new generation.
Start local. The supply just isn't there for households with incomes between 80 and 150 percent of the area median income (AMI). Incentivizing the product and modifying building code barriers can help address the urgent need to quickly increase the supply in struggling metro areas.
Attainable housing is aligned with transportation access. We can reduce housing costs if housing is co-located with multiple, affordable transit options. Older corridors that are ripe for attainable housing redevelopment may have transportation access already built-in.
Require mixed-use neighborhoods. Integrate single family, multifamily, rental, and owned. Look for entitlement opportunities in neighborhoods that provide move-up and move-down options. Extend the life of the area and serve buyers at all phases of their lives.
Creative lending could help. Develop innovative new borrowing approaches that address financial hardships, like second "subordinated" mortgage plans where the land cost (not home cost) is held for 10 years and not included in the first mortgage. At 10 years, the buyer has a home with equity and can refinance to include the land mortgage at an affordable new term.
Partner smarter for realistic solutions. In many cases, local governments will work with business and residents when state officials will not. The AEC industry can partner with community organizations to plan for a significant increase in affordable housing over time. Partnerships can develop ways to incentivize the product and modify hyper-local building code barriers.
The new year will bring new opportunities to address these changes in communities across the U.S. VHB is here to help. To learn more about how we help clients with smart community solutions for their pressing real estate problems, contract Curt Ostrodka, Director of Community Planning.