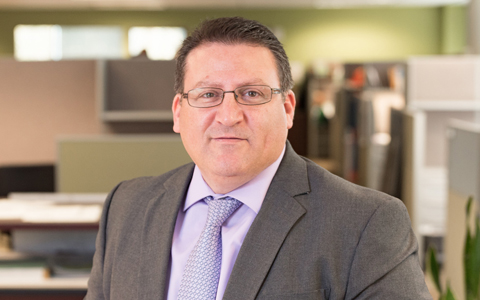 VHB is strengthening its technology-enabled, data-informed approach to transportation solutions with the promotion of Joe Perri, to Director of Transportation Technology. Joe's position reflects the company's emphasis on the proactive and innovative use of data and technology and reinforces VHB's commitment to delivering future-ready solutions for clients. He will work closely with Chief Technology Officer Dave Mulholland to support the company's growth in Transportation Technology, strengthening service offerings and deepening the company's talent base across 30+ locations.
"Joe is a trusted advisor to transportation agencies and private industry who are looking for innovative ways to significantly enhance efficiencies, measure performance via data-informed applications, and deliver safe mobility outcomes to the traveling public," said Dave. "His new position will enable VHB to introduce more clients to ways they can elevate technology and big data to solve complex transformation safety and mobility issues."
Joe is an integral part of the growth of VHB's transportation market since joining the company in 2017. Under his leaderships, multiple agencies have implemented initiatives that enhance efficiencies and safety utilizing data-informed technologies and innovation, including utilizing big data environment dashboards for operations and prioritization efforts, establishing Autonomous Vehicle (AV) shuttle pilot programs, implementing automated systems to improve operations and safety, and implementing energy-efficient and smart-ready LED street lighting in Washington, D.C, to advance smart city networks for public safety, environmental reporting, and communication capabilities.
As the Director of Transportation Technology, Joe will work in partnership with Curt Ostrodka, Director of Smart Communities, to help communities plan for a better tomorrow. Communities intentional about harnessing new and existing technologies can improve transportation infrastructure, lower energy costs and emissions, solve issues of equitable access, and address concerns about climate change. VHB is at the forefront of these and other future-focused initiatives, including working with cities to craft Resiliency Plans and prepare for Advanced Air Mobility (AAM) networks and vertiports.
"I am looking forward to helping advance innovative transportation solutions and identify new opportunities in the transportation market that make our communities more sustainable, equitable, and resilient," said Joe. "VHB's integrated approach and focus on collaboration among our smart communities, technology, sustainability, transportation, and engineering teams can achieve new and innovative solutions for our clients and communities."
Joe has three decades of experience in transportation planning, traffic operations, the development of TSM&O programs, intelligent transportation systems (ITS), design/systems integration and construction management. He has managed multiple districtwide traffic operations and ITS contracts across the eastern seaboard. Contact Joe.