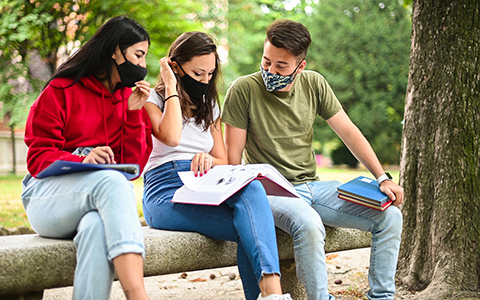 With new COVID-19 cases still occurring across the U.S., public and private institutions are increasingly implementing new ways to keep virus transmission in check. VHB is working with Ringling College of Art and Design to help devise and implement a novel wastewater testing system for four campus residence halls for evidence of COVID-19. This pilot program is intended to enhance the College's testing efforts, which also include baseline and random testing of students, faculty, and staff. The College's safety and prevention measures are a particularly important step toward maintaining a risk-mitigated environment on campus since many students and faculty returned this fall semester.
VHB worked with Ringling College of Art and Design's campus facilities department to identify seven clean-out areas associated with the residence halls with easy access for sampling. Each residence hall houses between 75 to 200 students. Effluent from the dorms has been tested weekly over a seven-week period, and no COVID-19 was detected.
The wastewater testing involves utilizing the same equipment typically used to remotely monitor surface water from storm events for nutrients and bacteria and does not require in-person monitoring. For the Ringling College of Art and Design project, one subsample is automatically obtained every hour for 24 hours. Those samples are combined into a composite sample and sent to a laboratory, which provided results within a few days.
"Campuses like Ringling College of Art and Design are leading the way in effluent testing for the virus, but cities are also taking note," said Ben Siwinski, Managing Director, VHB Gulf Coast. "More municipalities across the U.S. are acknowledging that, to attract and retain residents, visitors, and businesses, they need to implement programs focused on healthy, smart community design and planning. One of the ways they can do this is through advanced wastewater testing for evidence of disease, opioids, and other threats to public health."
Advanced testing measures including wastewater sampling for COVID-19 is helping the College monitor the campus for potential spread of the virus.
"This pilot program for early detection has the potential to make a positive impact on our ongoing efforts to maintain the health of our College community," said Dr. Tracy A. Wagner, Vice President for Finance and Administration, Ringling College of Art and Design. "We are eager to see how this additional testing complements our current protocols and efforts by our Student Health Center and local medical partners."
For more information about COVID-19 wastewater testing contact David Mulholland, Vice President, Southeast Regional Manager, dmulholland@vhb.com.