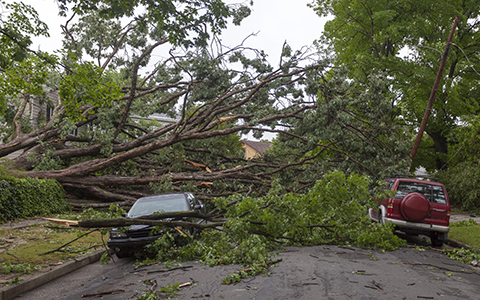 When Hurricane Sally —the 12th named storm of the seasonꟷ roared through Pensacola, Florida, earlier this year, VHB was ready to jump in and help. The Orlando Transportation Group was first on site to assess damage and inspect traffic signals after the storm. VHB supports the State of Florida through pre- and post-storm emergency response contracts, providing critical services that directly benefit the people and communities of Florida.
For Hurricane Sally, the VHB Team contributed to post-storm restoration in Florida Department of Transportation (FDOT) District 3 via damage assessment, identifying washed-out roads and non-functioning traffic signals, and debris removal to prioritize and direct the repair contractors to these sites—important measures to get cities back up and running after heavy rains. Despite this storm carrying more rain than wind, its damage was substantial to local communities.
"Our emphasis is always on safety first, followed by the speed of recovery," said Kevin Freeman, Transportation Planning Project Manager.
One of the more challenging tasks is rerouting traffic that can no longer cross the Pensacola Bay Bridge due to a construction barge colliding with it during the storm. VHB is working with the Department of Transportation within the City of Pensacola on various solutions such as water taxis or rerouting transit to circulate the city in new routes to accommodate additional riders.
A central component of VHB's emergency response is a cloud-based application developed by its Applied Technology GIS specialists that allowed workers on the ground to map areas and log all aspects of damage and debris removal in real-time, which is vital for coordinating with state agencies and the Governor's office during emergencies. VHB first utilized the app during its response to Hurricane Irma in 2017, where teams were able to get 150 intersections operational in 10 days—a test of logistics and resource management.
"VHB's success in this work really stems from working across teams and offices," said Mark Bertoncini, Director of Transportation in our Orlando office. "In addition to our Transportation Planning Team, we also integrate Environmental Services, Transportation Technology, Traffic Ops, and our Applied Tech/GIS group."