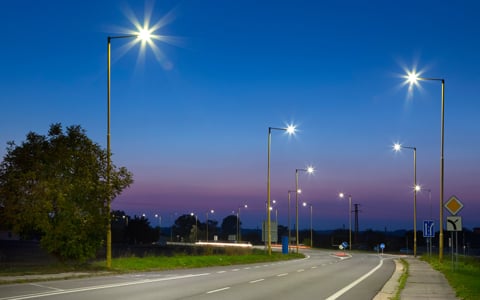 The streetlight of the future is here, and it does much more than light city streets. VHB is using Esri GIS technology to turn older, high-pressure sodium lit streetlights into efficient, interconnected LED lighting networks in communities across New England. The streetlights are not only budget and energy savers, but can become precisely managed and monitored networks, with future-focused technology built-in.
VHB began working with clients in cities and towns across the East Coast in 2017 to implement the LED and smart lighting programs, which have now touched more than 25,000 lights using Esri GIS technology in innovative ways to audit, inventory, and manage the projects.
VHB leveraged the ArcGIS Online technology stack in work with client Affinity and state Departments of Transportation and local governments to retrofit older, inefficient high-pressure sodium bulbs in streetlights with smart LED bulbs. The new bulbs have a more uniform, less-harsh distribution of light and significantly reduce CO2 emissions and energy consumption—up to 75 percent in some cities. Optional smart "nodes" enable the lights with additional public safety, environmental reporting, and communication abilities.
Applied technology know-how was key to moving the multiple projects forward. VHB developed a standardized geodatabase to store the lighting data, and Esri's ArcGIS Collector technology streamlined the field data collection effort. Progress was presented to the community for review through a web app that supported an interactive design review process to simplify municipal staff review and comments. A cloud-based mapping program allowed teams to create and share maps with electrical installers and upload data.
The City of Dover, New Hampshire, has approximately 1,800 streetlights that serve a population of more than 30,500 residents. Dover is saving more than $140,000 annually by replacing their older bulbs with new LED bulbs and reducing its annual carbon footprint by 482 tons.
"Communities do not have to be large or wealthy to reap the benefits of smart technology," said Steve Anderson, GISP, VHB Director of Applied Technology. "The communities we are working with in New England are smaller, rural communities with as little as 50-100 streetlights that need upgrading to LED. They are seeing the benefit immediately."
It is the smart-ready aspects of LED streetlights that may have the most enduring impact. By implementing smart-ready node plugins in the LEDs, communities gain valuable capabilities, data, and insight. The streetlights' smart nodes are sensors that can be connected and used to build wireless networks. This wireless network can be utilized as the foundation of many smart city applications, including supporting 5G and connected vehicles, detecting loud noises such as gunshots, pinpointing individual lights to brighten and dim when needed, monitorixng the environmental for air quality, and conducting video surveillance.
For more information about leveraging technology to improve your community contact Steve Anderson at sanderson@vhb.com.