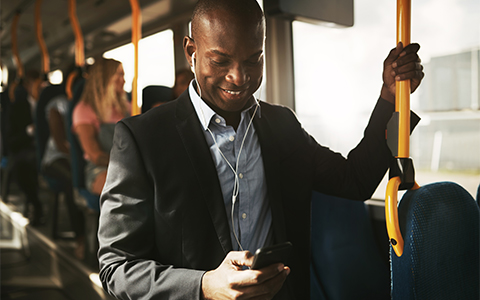 Whether bike, bus, automobile, or on foot, VHB Gulf Coast and Orlando office employees are celebrating the perks of going to work with a new accolade: the organization's Tampa and Orlando offices have been named 2021 Best Workplaces for Commuters for offering employees exceptional commuter benefits. Awarded by the Center for Urban Transportation Research (CUTR) at the University of South Florida, VHB earned the achievement by providing an array of commuter benefits for their employees during calendar year 2020.
"VHB is one of the top employers in the nation offering high-level commuter benefits to their employees," said Julie Bond, Program Manager, Best Workplaces for Commuters. "They made the list because they give employees the support they need to get to and from work and be at their best before, during, and after their workday."
VHB offers employees several commuter benefits options, including:
A Transit Flexible Spending Account. VHB contributes 50% for monthly public transportation costs, up to the maximum tax-free benefit amount.
An Employee Transportation Coordinator who helps assist co-workers with options to simplify their commute.
VHB Together is an online shared collaboration spot which offers employees guidance and resources for working from home.
FlexTime work options to alter starting and quitting times to ease commuting.
Teleworking program, which reduced at least six percent of commuting all employee commute trips.
With employees working from home due to COVID-19 for much of 2020, VHB's Orlando and Tampa offices pivoted to find new ways to support teleworkers via online internal collaboration tools and implementing a new Cares.com benefit to assist with securing caregivers for children, pets and elder family members.
Best Workplaces for Commuters is the national authority on recognizing and assisting workplaces that provide exceptional commuter benefits to employees. More than a recognition program, the Best Workplaces for Commuters program provides support needed to create and sustain an employer-provided commuter benefit program, including online assessment tools, advisory services, case studies, tool-kits, web-based tools, webinars and training. The Best Workplaces for Commuters program is managed by the Center for Urban Transportation Research (CUTR) at the University of South Florida with support from the Florida Department of Transportation (FDOT).
"We are extremely proud about our progressive commuter benefit program that saves employees time, money, and stress," said Dave Mulholland, VHB Southeast Regional Manager "Our benefits give us a competitive edge in employee recruitment and retention while helping reduce traffic congestion and negative environmental impact."
The Best Workplaces for Commuters program offers designated organizations access to a range of support services to assess and promote non-driving commuting of employees, including organizational assessment and implementation tool-kits, web-based tools and webinars, staff training, and information exchange.
"The companies on this list recognize and embrace the beneficial outcomes commuter benefits have on their employees and the positive impact to the environment," said Bond. "Excellent commuter benefit programs reward these companies not just with a national designation, but buoys workplace productivity, customer loyalty, and brand recognition in an increasingly competitive marketplace."