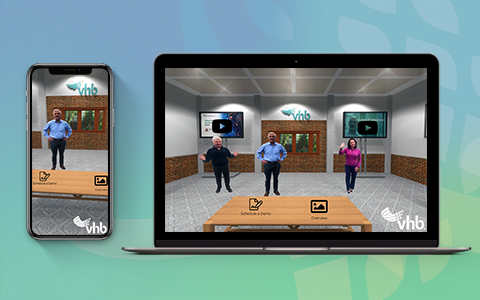 When new communication challenges resulted from COVID-19, virtual meetings became a lifeline. Where in-person attendance for input and decision-making is required to advance critical initiatives, VHB's Virtual Meeting Room tool helps clients, communities, and stakeholders stay engaged and connected while maintaining social distance.
From public and community meetings, to board and commission hearings, to webinars and plan reviews, this innovative tool and practice makes it possible to conduct meetings anywhere, helping to reach wider audiences and move projects forward through the public approvals process. When in-person meetings cannot occur, VHB's Virtual Meeting Room helps you connect, explore, and engage with a broader audience—24/7 from your mobile device or PC. Key features and benefits of this go-to virtual platform include:
Fully customizable to align with your brand
Accessible 24/7 from any PC, tablet, or mobile device
Flexible budget, from standard templates to custom buildouts
Immediate access to videos, plans, maps, websites, audio files, and other key information files
Real-time data for public input, voting, and survey results
Viewer engagement reporting capabilities
Enhanced accessibility and performance for all web-based users
As an extension of our virtual engagement services, you can preview our virtual meeting room here. You can also download a free VHB Viewpoints resource, "Innovative Approaches to Facilitate Virtual Engagement." For more information or to request a demo, please contact Ryan Noyes, Director of Innovative Project Delivery.