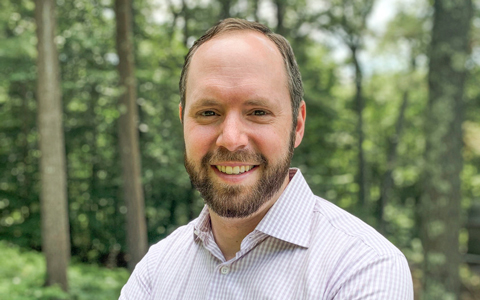 Andrew White has joined VHB as Corporate Sustainability Director, a new position created to integrate sustainability throughout VHB's internal operations and business practices. As a Generational Company founded on stewardship, sustainability is inherent in all that we do, and Andrew will help VHB advance this imperative across our office footprint.
Andrew's focus will be on developing an internal sustainability program that will allow VHB to measure, report, and take action across our offices and operations in the areas of greenhouse gas emissions, waste management, consumables procurement, energy and water consumption, DEI, social initiatives, and more.
Prior to joining VHB, Andrew developed and managed corporate sustainability programs, including sustainability benchmarking and reporting, for commercial real estate clients. Andrew is a LEED AP, BD+C and co-authored several papers for the U.S. Department of Energy's Building Technologies Office that analyzed the financial performance of energy efficient office buildings and market potential for commercial green leasing practices.
"As VHB strives to be at the forefront of sustainability within the AEC industry, we know we must first demonstrate this leadership at our firm. We're excited about the contributions that Andrew will make in helping VHB to achieve greater sustainability, measure and report on our progress, and communicate our story," explains Bob Dubinsky, Corporate Resources & Integration Officer.
Learn more about sustainability throughout VHB's internal operations and business practices. Connect with Andrew.