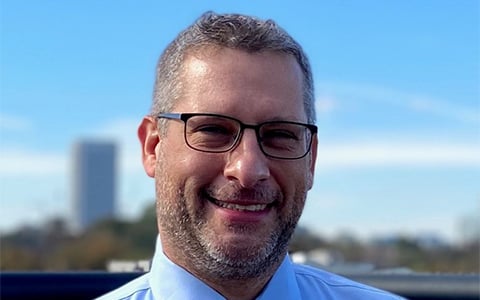 Jeff Goldberg, PE, joins VHB as the Manager of Engineering - Energy in the Atlanta office and brings an extensive background in substation and transmission line engineering. His 16-plus years of experience in the electrical power industry includes working for one of the world's largest investor-owned energy utilities and delivering results on reliability, load growth, asset condition, and sustainability initiatives. The addition of Jeff to the VHB team marks a significant expansion of integrated consulting services to energy clients across the Southeast.
Jeff's deep understanding of the energy market includes leading a multi-discipline electric transmission line and substation design office with a client base across the east coast from Massachusetts to Florida. During his tenure, Jeff was instrumental in transmission line capital investment plan development projects where his collaborative and engaging approach brought value to the client and the project team.
"We expect clean, renewable energy markets and power sectors to expand in 2021," said Richard Lewis, Director of Engineering - Energy. "Jeff's range of experience and skills will strengthen our service offering, and enhance our ability to provide integrated solutions to our energy clients, at a critical time of exponential growth and support for clean energy technologies across the U.S."
Jeff received an MS in Civil Engineering and his Graduate Certificate in Power Systems Management from Worchester Polytechnical Institute. He also received a BS in Civil Engineering from the University of Maryland, College Park.
Connect with Jeff at jeffreygoldberg@vhb.com to learn more about VHB's energy practice and how we can help move your project forward.