VHB was recently awarded two Gold and one Bronze Engineering Excellence Awards from the Massachusetts Section of the American Council of Engineering Companies (ACEC). The Kelley Square Improvement project in Worcester, MA, the rehabilitation of the MBTA's Franklin Line over the East Street Bridge in Westwood, MA, and the Dorothy Pond Dredging and Water Quality Improvements in Millbury, MA, were recognized for successfully implementing unique applications of new and existing techniques.
Kelley Square

The Kelley Square project was granted the Gold Engineering Excellence award for its enhanced traffic patterns and calming efforts, increased safety, and the creation of bicycle and pedestrian accessibility. As the Lead Designer for the project, VHB provided traffic engineering, permitting, landscape architecture, urban design, placemaking, public engagement, and survey services. The updated design and traffic pattern allow for safer transit while keeping the City's urban character intact. The roundabout is dubbed a "Peanut Roundabout" because it allows motorists to effectively navigate two roundabouts that are tied together. The roundabout is the first hybrid-style roundabout in Massachusetts.
East Street Bridge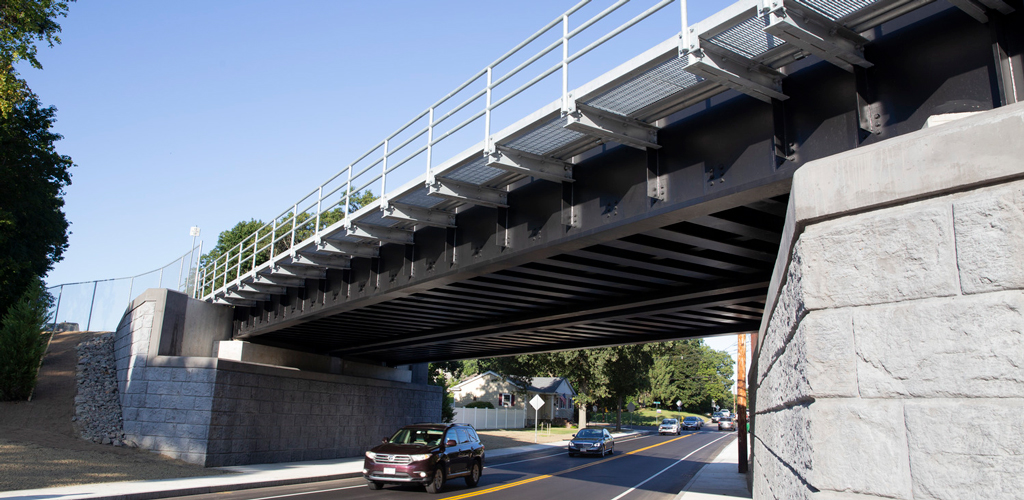 VHB was awarded a second Gold Engineering Excellence award for their work on the East Street Bridge in Westwood, MA. Built in 1911, the original bridge structure was restricted to a vertical clearance of 10'-6", causing traffic safety concerns, with many in the community nicknaming the bridge the "can opener". As the prime consultant for the project, VHB partnered with the MBTA providing project management, structural engineering, highway and rail design, right-of-way coordination, and stakeholder and public engagement. To widen East Street and increase the vertical clearance of the bridge, VHB lowered the roadway and relocated underground utilities, which included gas, water, communications, and drainage. Working under a compressed timeline, VHB closed the bridge for repair on two consecutive weekends, allowing for normal weekday traffic patterns and minimal disruption to the community. VHB's design solution provided an extended overpass to allow for safer travel.
Dorothy Pond Dredging and Water Quality Improvements
Dorothy Pond was awarded the Bronze Engineering Excellence Award. VHB was contracted to assist with the design and permitting of dredging and water quality improvements to Dorothy Pond in Millbury, MA. The design plans included construction access, erosion controls, and control of turbidity and off water flow during dredging—without interrupting the traffic on Interstate 90. The stormwater management design permitting, and construction support were critical contributions to the project, highlighting the importance of sustainability, and safe and accessible transportation.
Congratulations to all winners!