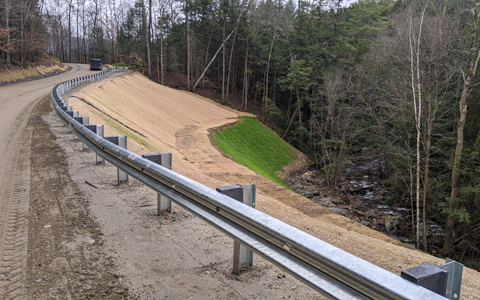 VHB was awarded three of the 10 awards given at the 2021 American Council of Engineering Companies of Vermont's (ACEC/VT's) Engineering Excellence Awards Celebration on June 17. The annual awards honor engineering projects that demonstrate exceptional innovation, complexity, achievement, and value. Of the projects submitted, VHB was recognized with Merit Awards for the Williston I-89 Stormwater Retrofits Project and the Killington Road Master Plan and received the prestigious Grand Award in partnership with Golder Associates for the Duxbury Crossett Hill Road Project.
Williston I-89 Stormwater Retrofits
The Vermont Agency of Transportation (VTrans) engaged VHB to implement their first interstate stormwater retrofit project which included new stormwater treatment practices to address the Allen Brook watershed stormwater impairment along the I-89 median in Williston, Vermont. VHB developed design plans to meet the high-flow reduction targets and maximize phosphorus reduction in accordance with the Allen Brook Flow Restoration Plan. In addition to enhancing the State's overall public health by improving water quality and safety, the final design now acts as a model for future stormwater linear retrofitting projects within Vermont.
Killington Road Master Plan
VHB worked with the Town of Killington in crafting a plan to guide the continued development along the nearly four-mile Killington Road corridor serving the Killington ski resort. The plan will assist the Town in securing grant funding to transform the roadway into a modern, multimodal facility, which will include the integration of bus stops, turn lanes, streetscape enhancements, and sidewalks. The plan's proposed improvements provide the community with safer, more active, and equitable transportation, while also creating an established set of standards to guide future developers.
Duxbury Crossett Hill Road Project
The Town of Duxbury sought the expertise of VHB, who worked in collaboration with Golder to design a new roadway embankment, including the layout of stone fill slopes, ditches, and guardrails, as well as a temporary construction access road. With geotechnical guidance from Golder, VHB conducted natural and cultural resource reviews, calculated permanent and temporary impacts, and prepared all necessary application materials. The carefully executed embankment design protects Crossett Brook and Crossett Hill Road from a recurring landslide, stabilizing the roadway slope and streambank.
To learn more about VHB's integrated services, please contact Dave Saladino, PE, Managing Director, Vermont.