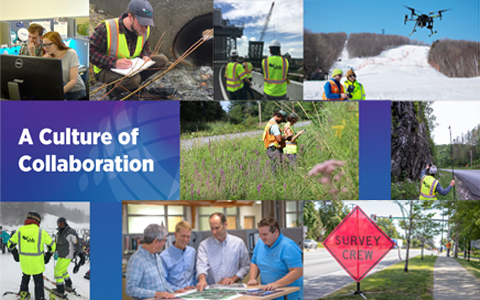 Having recently been named one of the best places to work in Vermont for the fourth year in a row, VHB's Vermont team was doubly proud to learn that the company was just recognized as one of the fastest growing businesses in the Green Mountain State.
Vermont Business Magazine and KeyBank bestowed the 2020 Vermont Business Growth Award upon VHB in recognition of the company's impressive 72% growth over the last five years.
"At VHB, we stay hyper-focused on our clients, and we're honored to receive this award, which is a reflection of that commitment," said CEO Mike Carragher. "Our mission is to help clients address the challenges of the built environment, weaving together improving mobility, connecting and enhancing communities, and balancing stewardship of our environment with development."
David Saladino, PE, Managing Director of VHB's Vermont offices, and Caitlin King, Marketing Team Leader, attended the September 17 virtual ceremony.
Asked about the key to their success, David replied, "The most important factor in our growth, without a doubt, is our amazing team of over 90 people here in our South Burlington and Montpelier offices. Our people are what make us great and allow us to take on the most complex projects across the state and deliver innovative solutions for our clients."
Connect with David Saladino, Managing Director of VHB's Vermont offices.