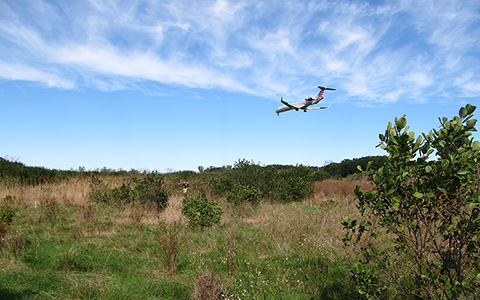 A project 16 years in the making began when the Rhode Island Airport Corporation (RIAC) received funding from the Federal Aviation Administration (FAA) for a slate of 11 safety and efficiency projects at T.F. Green, the largest of six airports owned and operated by RIAC throughout the state. In 2004, VHB initially came on board to prepare an Environmental Impact Statement (EIS) and usher all projects through the National Environmental Policy Act (NEPA). Since conclusion of the NEPA process, VHB has continued to support RIAC in advancing its program including airfield engineering, permitting, and wetland and floodplain mitigation design.
Because the safety areas on Runway 16-34, the airport's crosswind runway, weren't long enough to accommodate potential aircraft overruns, RIAC's plan called for the installation of engineered material arresting systems—crushable concrete blocks that function like brakes to slow a plane down in case of an errant landing or emergency. VHB designed wetland mitigation areas and a stream restoration project to allow this important safety project to progress.
This year, additional design improvements to Runway 16-34, including reconstructing the runway and widening the shoulders to meet FAA standards, proved challenging. Runway 16-34 pavement was in poor condition and needed to be rehabilitated to avoid unsafe occurrences of foreign object debris on the airfield. The Runway 16-34 safety project involves reconstructing the runway and widening the runway shoulders from 15 to 25 feet to meet FAA standards for design and topography. RIAC turned to VHB to design the drainage systems and acquire state permits.
The VHB team held a number of pre-filing meetings with Rhode Island's Department of Environmental Management and walked regulators through the design criteria, soliciting their input on various approaches. As a result of early coordination with the regulatory agency, VHB's permit application was reviewed in just a few weeks, giving the team a huge boost in meeting the tight schedule. All in all, it was just six months to put together four major design submittals and obtain environmental permits before the project went out to bid.
"The VHB team did an incredible job meeting tight deadlines," said Susan Nichols, ENV SP New England Environmental Service Leader. "VHB's approach, strong relationships, and high-quality deliverables were key to the project's success."
Runway 16-34 construction has begun, supported in part with funds from the FAA.
For information on VHB services in airfield engineering and design and environmental permitting, please contact Susan Nichols.