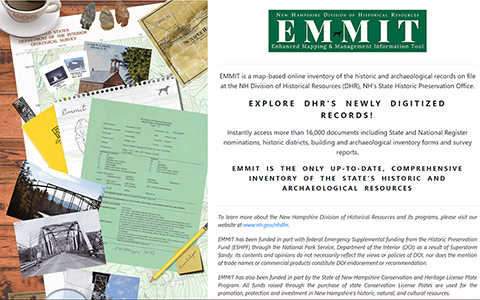 ​This past spring, the New Hampshire Department of Historical Resources (NHDHR) rolled out the Enhanced Mapping & Management Information Tool (EMMIT), a web-based cultural resource portal developed by VHB's Technology Team. Using Geographic Information System (GIS) technology, EMMIT provides a comprehensive map-based inventory of over 16,000 records of historic and archaeological resources and related documents, including State and National Register nominations, inventory forms, and survey reports. Before EMMIT was released, these records were stored on paper at the State Historic Preservation office (SHPO) in Concord, NH, and could only be accessed during work hours Monday-Friday.
EMMIT allows users to visualize the location of cultural resource data on an interactive map display, as well as search for resources and documents based on a variety of criteria and/or spatial filters. The new platform also lets users export search results into an Excel spreadsheet and download reports as PDF files. To optimize the data and improve performance, the VHB team migrated NHDHR's Microsoft Access databases to a single, comprehensive Microsoft SQL Server database. VHB hosts and maintains the entire EMMIT platform for NHDHR in a secure, cloud-based environment using Microsoft Azure.
"EMMIT increases access to information about New Hampshire's historic properties for everyone," says Senior Preservation Planner Nicole Benjamin-Ma from VHB's Watertown office. "Now anyone with an interest in cultural resources, from the general public to experienced preservation consultants, has the ability to understand the state's resources spatially. Adding that extra dimension is invaluable for the analysis and management of these important resources."
The EMMIT project team included Larry Spraker as Project Manager, James Samek as Lead Developer, and Cameron Smith as a Developer.