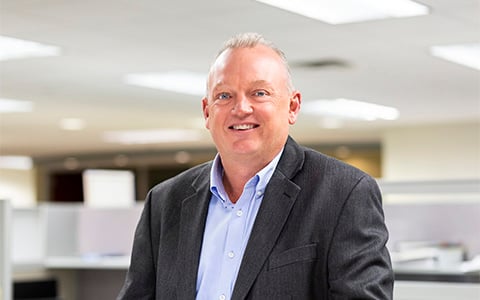 VHB is pleased to announce the nomination and acceptance of Steve Anderson to Esri's Partner Advisory Council (PAC). Steve Anderson, a Senior Vice President and Director of Applied Technology at VHB, will serve as a representative for a three-year term.
The PAC, established in 2010, serves as a Board of Directors for Partnering at Esri. This is an esteemed community offered to a select number of partner thought leaders that meet rigorous criteria for nomination, including senior leadership in their organization, current engagement in the partner ecosystem, a clear business strategy, and technology alignment with Esri. PAC members are committed to being advocates for the community and providing feedback and input on the strategic direction of the partner program to optimize how partners do business with Esri.
"I am honored to be named as part of Esri's Partner Advisory Council and look forward to working with the other members of the PAC to continue to enhance the Esri Business Partner program as we focus on jointly expanding and enhancing the use of Esri technology across the markets we serve," said Steve Anderson.
"Our PAC members are carefully selected to serve a very important role in our partner community," said Robert Laudati, Director, Global Partners and Alliances. "As the voice of the Esri Partner Network, they provide valuable input and act as a sounding board on the development of our programs and have the responsibility to be representatives of Esri's rapidly growing partner ecosystem. I'm pleased to welcome Steve Anderson to this position."
The Esri Partner Network is a rich ecosystem of organizations that work together to amplify The Science of Where. Esri has more than 2,600 partners globally, which deliver solutions, content, and services. Combining industry-specific knowledge with ArcGIS software expertise, partners can customize and extend the reach of geospatial technology in limitless applications and organizations. Learn more about the Esri Partner Network and their work here.