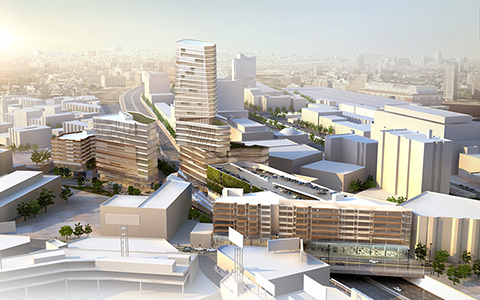 ​VHB recently helped celebrate the groundbreaking of the $240 million first phase of one of Boston's most anticipated developments–Fenway Center. With our clients John Rosenthal of Meredith Management and Kelly Saito of Gerding Edlen, VHB joined Massachusetts Governor Charlie Baker, Massachusetts Transportation Secretary Stephanie Pollack, Director of the Boston Planning & Development Agency Brian Golden, representatives of the project's Citizens Advisory Committee, representatives from the Boston Red Sox and our many teaming partners to celebrate this exciting milestone.
Meredith Management and Gerding Edlen are the designated developers of this MassDOT development site, which abuts the Massachusetts Turnpike (I-90), the MBTA's Framingham/Worcester commuter rail line, and the recently constructed Yawkey Station. This complex, transit-oriented development includes both ground and air-rights parcels. Fenway Center's first phase will transform a former parking lot into a vibrant mixed-use district and establish a new pedestrian-friendly urban street wall along Beacon Street. When complete, Fenway Center will contain 1.1 million square feet of residential, office, and retail space, 30,000 square feet of park and green space, and parking for both site users and commuters destined for the nearby Longwood Medical and Academic Area.
VHB is proud to have collaborated with the development team throughout the planning and design phases of this innovative project. VHB provided traffic engineering, transit, parking, and pedestrian planning, and site/civil and infrastructure engineering for this complex site. As this smart-growth development continues to advance, VHB looks forward to supporting the next phase of development by providing additional engineering services, roadway and traffic signal design improvements, and construction services. We look forward to seeing Fenway Center help knit the city together, while expanding the lively Fenway neighborhood.
Image copyright Meredith Kenmore Fenway Development Group, LLC