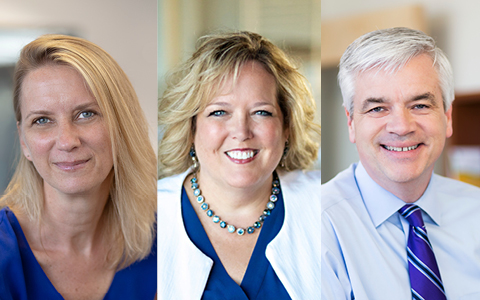 VHB's Board of Directors is comprised of three executive-level employees appointed by the CEO; three VHB owners recognized for their forward-thinking, innovative approach; and three outside members who bring expanded perspectives and experience. This configuration creates a competitive edge, while maintaining a majority of stockholder employees on the Board, to ensure stewardship of VHB's Generational Company culture and values.
Our annual Stockholders Meeting and gathering of the Board in early April marked exciting changes to the Board of Directors:
We welcomed Meredith Avery, Massachusetts Director of Natural Sciences, a VHB Stockholder who brings a rich perspective that will help VHB to continue to stretch our thinking and push the envelope.
M. Gayle Packer, President & CEO of Terracon Consultants, Inc., strengthens VHB's board as the third Independent Director. Gayle joins Carolyn Groobey and Keith Parker to make up the VHB team of three Outside Directors who expand our knowledge, positioning us for growth and success in the future.
Mike Carragher, President & CEO, was re-elected to the Board for another three-year term and will take over the role of Chair of the Board following an announcement from Bob Brustlin, Founder.
Bob shared that he is stepping down as Chair, a position he held for 17 years, but will remain a member of the Board as he continues into year three of his current Board term. Bob will continue sharing his insights, inspiration, and support to VHB's Board of Directors—another example of stewardship, helping prepare the company for the next generation.
"As the first non-Founder serving as Chair, I'm incredibly humbled to take on the role that Bob had for many years as Chair of the Board and CEO," said Mike Carragher. "Bob, so far, has dedicated more than 41 years to helping to create, build, and prepare VHB for the future. I, for one, could not be happier to know that whenever we meet as a Board, or we need some perspective, Bob will be here for us."
In addition, Mike McArdle, Chief Development Officer (CDO), was appointed as Vice Chair of the Board.
VHB's Board of Directors includes: Bob Brustlin, Founder; Mike Carragher, CEO and Chair of the Board; Mike McArdle, CDO and Vice Chair of the Board; Dave Mulholland, Southeast Regional Manager; Meredith Avery, MA Director of Natural Science; Tom Jackmin, New England Regional Manager; and the three outside members Carolyn Groobey, Advisor & Executive Coach, Keith Parker, President & CEO of Goodwill of North Georgia, and M. Gayle Packer.
All Board members serve staggered three-year terms. Each year a committee chaired by a departing Board member surveys every Stockholder to solicit views on the Governance of the company and Stockholder Board candidates.