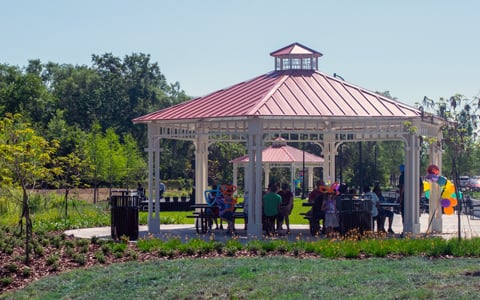 Sustainability plays a significant part in the health of a community, from encouraging active, outdoor activities to enhancing mobility. VHB was selected by the City of Altamonte Springs to design a new park and thoroughfare that features sustainable landscaping and amenities with an emphasis on the future through transit-oriented design (TOD). The team recently gathered with local dignitaries and community members to hold a celebratory ribbon-cutting for the new Park at East Altamonte on Amanda Street.
The Park will enhance neighborhood connectivity to an adjacent SunRail commuter station and a planned multimodal flex path and electric autonomous vehicle shuttle stops expected in 2024 in this future-focused community north of Orlando. An integrated team of VHB transportation, water resources, urban planning, landscape architecture, and graphic design professionals collaborated with the City of Altamonte Springs on the project for seamless integration of pedestrian safety, environmental sustainability, and micro-mobility options.
"Smart communities are resilient communities enhanced by technology and input from residents," said Roberta Fennessy, AICP, VHB Southeast Region Planning & Design Services Lead. "The Park at East Altamonte has transit-oriented features that benefit the local community, like a park, a plaza for food trucks and events, connection to commuter rail, and a framework for future enhancements such as connections to autonomous vehicles."
VHB worked closely with the City of Altamonte Springs from the project's early site and landscape architectural design conceptual studies. VHB transportation and water resources professionals provided engineering, pedestrian safety insight, floodplain drainage, and utilities guidance for a new half-mile section of Amanda Street at the site. The park is located with an expansive view of an adjacent wetlands and landscaped with Florida-friendly and native plants
Learn more about how VHB is helping unite communities via planning and design.