The New England Chapter of Congress for New Urbanism (CNU) recently awarded the Danbury, Connecticut, Transit-Oriented Development (TOD) Plan with its 2020 Urbanism Award. The Danbury project is a true representation of how innovative land use, urban design, economic, and transportation planning can revitalize a downtown area. The plan for Danbury's downtown, which includes an enhanced multi-modal transit and rail station, incorporates rich culture, entrepreneurial spirit, and community engagement.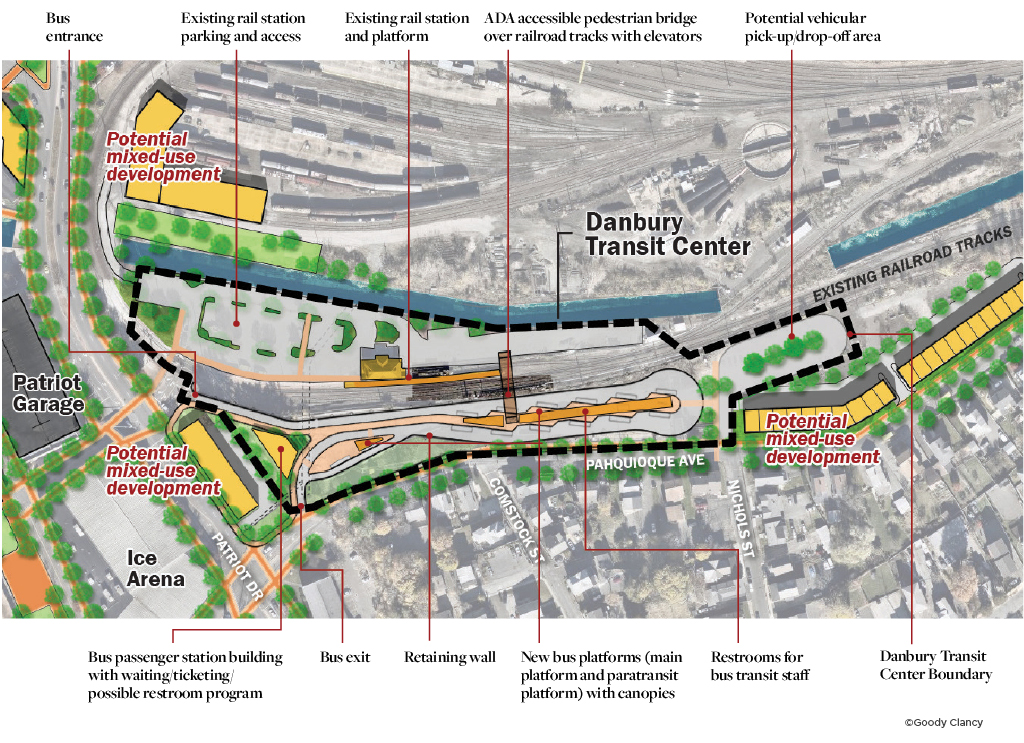 As land use and transportation planner for the Goody Clancy Team, VHB served as a vital partner, leading the planning and design of the proposed co-located local and intercity bus hub with the existing Metro North Danbury commuter rail station. The plan for the consolidated transit facility ties into a larger plan for Danbury, setting the stage for additional funding including a study on the possibility of creating a faster and more direct rail route to New York City.
The new integrated transportation facility is envisioned to address current and future bus operator needs, create synergies between the bus and rail systems, and support TOD and downtown revitalization. VHB's work included determining the physical requirements and operational considerations associated with relocating the bus routes, calculating the size of the proposed bus facility and designing potential layouts, assessing and screening sites to identify a preferred site, examining bus routing and run times, and estimating order-of-magnitude costs for the facility and revised routes.
The cost-effective update to the transit infrastructure will create a seamless and efficient multi-modal facility in close proximity to downtown Danbury. The plan offers increased accessibility for pedestrians, intersection improvements, and will restore an existing Brownfield site, introducing new building frontage along two streets.
"Communities like Danbury are increasingly desirable for those looking to move out of the City, especially post-COVID-19," said Planning and Design Service Leader for VHB, Ken Schwartz. "The co-location of the bus hub, in addition to the downtown revitalization and ongoing business development, positions Danbury as an attractive place to live, work, and play. We are thankful to the City of Danbury, and Goody Clancy for inviting us to be a part of this change and growth." In addition to Danbury, VHB is working on other TOD projects in Connecticut, including Bridgeport, Fairfield, and most recently Norwalk.
The CNU is an international organization that brings together architects, engineers, developers, and citizen advocates who work together to build well-designed, lively, and sustainable communities. The New England Chapter virtually held their seventh Urbanism Awards to honor those examples of equitable, sustainable, walkable, healthy, and prosperous communities.
For more information about the CNU NE Urbanism Awards click here.