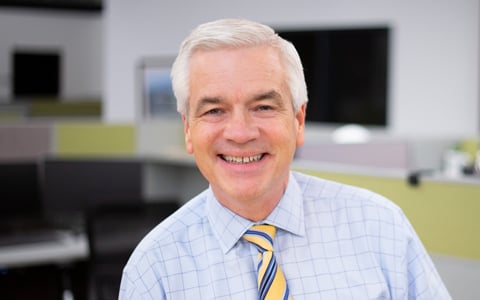 VHB President and CEO Mike Carragher has been appointed Chair of the American Council of Engineering Companies (ACEC) Research Institute's Board of Directors. The ACEC Research Institute was formed in 2020 to expand research and thought leadership capabilities, serving as the premier source for industry trends and analysis. Mike will serve alongside Vice Chairman, Steve Lefton of Kimley-Horn and Associates, Executive Director Daphne Bryant and 12 additional national leaders on the Board. Prior to being named Chair, Mike served as Vice Chair.
The ACEC Research Institute's mission is to deliver knowledge and business strategies that guide and elevate the engineering industry by:
Identifying, funding, and providing industry wide research, forecasts, and trend analysis.
Capitalizing on the rapidly changing nature of technology and society to ensure a sustainable engineering industry.
Promoting the engineering profession's essential value to society.
Inspiring future generations to solve the world's most challenging problems through engineering.
As a member of the Research Institute Board, Mike has the opportunity to help shape the future of the industry so that all firms are better prepared to address the urgent challenges facing our communities and planet—surging populations, climate change implications, the need for more impactful sustainability and resiliency, and rapidly advancing technologies.
"The Institute provides a means to research and prepare for the rapidly changing nature of our society and world," said Mike. "I've always been incredibly passionate about the tremendous impact our profession makes and I look forward to helping to continuously expand our industry's knowledge, understanding, and expertise—with the goal of preparing future generations to address the most challenging issues facing our communities."
In 2023, the Institute will focus on advancing research in the areas of business sentiment and economic forecasting; design-build contracting enhancements; increased use of lump sum contracting; and DEI, through development of a maturity model. Another focus area will be an exploration of the Firm of the Future (2035).
Mike will be collaborating with Research Institute Board members from WSP; IMEG; Stanley Consultants; Benesch; Woodard & Curran; Power Engineers; Constellation Design Group; Deltek; and Autodesk to advance the Institute's mission.
VHB is a proud supporter of ACEC and the ACEC Research Institute. Several VHB professionals are involved at various levels in ACEC Member Organizations across the firm's footprint. Currently, Mike serves on the ACEC Design Professionals Coalition Executive Committee.