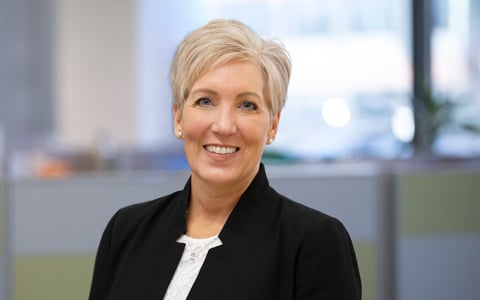 VHB welcomes back Carrie McInerney, PE, to its Watertown office as Director of Transportation Systems. As VHB strives to advance its experience in technology-enabled consulting, Carrie will provide valuable leadership and insight into data-enabled solutions for increasing safety and efficiency in our transportation systems. Carrie's impressive 30-year career is fueled by her passion for system engineering and data analytics. In this role, she will oversee the integration of VHB's Transportation Technology and Traffic Design Groups in Massachusetts.
Carrie rejoins VHB after eight years with the Massachusetts Department of Transportation (MassDOT), where she served first as the Deputy Director of Tolls and then in the newly created position of Manager of Transportation Technology Group, Traffic and Safety. During her time at the Department, Carrie made significant contributions to advance transportation technology projects, traffic operations, data analytics, transportation systems management and operations (TSMO), and congestion mitigation initiatives.
Carrie notably served as technical lead for some of MassDOT's most advanced technology projects such as the Wrong-Way Vehicle Detection (WWVD) Program. This $2.6 million pilot program project is currently being rolled out at 16 ramp locations throughout Massachusetts and will not only seek to prevent wrong-way collisions but will also utilize technology to improve on incident response strategies. She also oversaw the rollout of the first connected corridor in Massachusetts on Route 9 and provided systems acceptance support for the Emergency Ramp WWVD/Intelligent Transportation System (ITS) Systems.
While at MassDOT, Carrie helped advance traffic data analytics resources by developing regular analytics reports and creating various public-facing traffic data dashboards and served as technical lead for MassDOT's award-winning All Electronic Tolling (AET) program.
MassDOT recently recognized Carrie with a Performance Recognition Award as Manager of the Year in 2021.
"As strategies and technologies continue to evolve, Carrie's passion and experience will bring tremendous value to our team and to our clients," said VHB's Michael Regan, Managing Director of Transportation Systems, Planning & Operations. "Her experience with MassDOT brings a unique perspective that will help VHB deliver enhanced technology-enabled solutions and broaden our capabilities to support complex transportation projects that will be at the forefront of creating safer and smarter roadways throughout the region and beyond."
Carrie graduated from Norwich University with a Bachelor of Science in Civil Engineering and continues to volunteer for the University's Engineering Board of Fellows. She is a member of WTS International and serves on several Transportation Research Board (TRB) and National Cooperative Highway Research Program (NCHRP) panels.