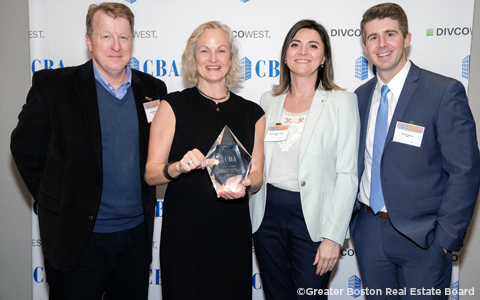 The Commercial Brokers Association (CBA) represents 400+ members in the commercial brokerage community throughout Massachusetts. The Annual Achievement Awards are the largest gathering of the year for the brokerage community, bringing together the most influential leaders and decision makers in the local brokerage industry. At this year's ceremony, VHB was honored to receive the "Collaborating Partner of the Year" award for 2022 by popular vote. The award is presented to a firm benefiting members of the real estate community through their leadership, education, service, philanthropy and/or vision.
Several VHB employees attended the awards ceremony, including Elizabeth Grob, New England Real Estate Market Leader, who accepted the award on behalf of VHB.
"At VHB, collaboration is one of our core values," Elizabeth said. "Every day, we find ways to embrace partnership and mentorship to make certain our employees feel supported, engaged, and empowered to deliver consistent and quality services to our valued clients. We are honored to receive this distinguished award and are thankful to work with so many supportive clients throughout the Commonwealth."
Learn more about VHB's Boston or Watertown office locations, or reach out to Elizabeth Grob to discuss how VHB can help move your development project forward.