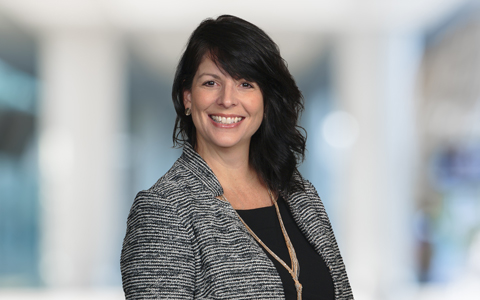 VHB is pleased to announce the addition of Cindy Shurling to the firm as Federal Environmental Practice Leader. In this role, Cindy will be dedicated to advancing VHB's environmental prominence in the Federal Market throughout the Mid-Atlantic region and beyond. Cindy will be devoted to developing relationships across the Federal Market through environmental service offerings, broadening the federal practice across VHB's footprint, and building an environmental team of integrated service thinkers. With extensive knowledge of National Environmental Policy Act (NEPA) compliance, environmental services, and public outreach facilitation for both federal and energy markets, Cindy will be responsible for leading the development and strategic growth of these services and overseeing them on complex projects.
Through 15 years of demonstrated experience, Cindy has led complex environmental and planning studies, multi-jurisdictional permitting, NEPA, and public outreach projects. Cindy has specialized in working with the Department of Defense on military testing and training activities, marine spatial planning projects, in-water construction, and energy and infrastructure projects, such as offshore wind and renewables. Cindy's in-depth energy experience spans from critical issues and fatal flaw analysis, stakeholder engagement and DoD coordination, cable routing and onshore connection evaluation, and permitting support; to full project environmental planning support. Her work includes projects onshore and offshore throughout the eastern seaboard, including developing an Environmental Impact Statement for EA-18G Growler Airfield Operations at NAS Whidbey Island Complex and managing robust stakeholder outreach efforts for the New York State Offshore Wind Master Plan—the first Offshore Wind Master Plan in the U.S.
"Cindy offers a strong understanding of NEPA, exposure to multifaceted site conditions, and the ability to navigate complex stakeholder relationships to accelerate VHB's growth and expansion of these services to our diverse federal and energy clients," said Neville Reynolds, Environmental Services Line Chair for VHB. "Cindy is consistently celebrated by her clients, their stakeholders, and project teams for her strong communication skills and ability to understand priorities, issues, strategies, and key decision-makers. She is a great fit to help us build this practice and guide our growth of delivering sustainable, equitable solutions for our clients as, together, we build a more resilient future."
Cindy is a graduate of Duke University where she earned her Master of Environmental Management in Conservation Science and Policy. She currently serves as Vice Chair for the Norfolk Environmental Commission, appointed by city council for special assignments related to environmental issues; is President of the Board of Friends of Norfolk's Environment, a non-profit organization focused on the greening and beautification of Norfolk; and is an active member of the Elizabeth River Trail Master Planning Committee, where she provides planning services to activate and enhance the Elizabeth River Trail.
To learn more about Cindy's environmental experience and how she can assist you on your next project, connect with Cindy on LinkedIn or contact her by email at cshurling@vhb.com.