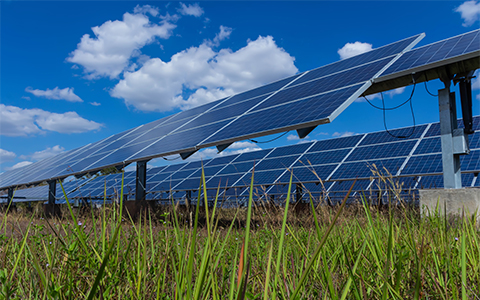 VHB is no stranger to renewable energy projects, and with most states developing aggressive sustainability targets for the future, it makes sense to see an uptick in solar projects in states like Connecticut. We sat down with VHB's Steve Kochis, PE, Senior Project Engineer, to talk about solar in Connecticut.
VHB: We have heard a lot about the renewable and sustainable energy goals many states have for the future, so it makes sense for us to witness increased renewable energy activity. Would you say these energy initiatives are the cause for increased solar projects in Connecticut?
Steve: Absolutely! But when we look at other New England states, like Massachusetts, New Hampshire, or Vermont – Connecticut is a little further behind. Many states that are further along in meeting their sustainability goals are no longer offering certain tax incentives or virtual net metering, so there is less cost incentive for developers in those states. Connecticut has a vast amount of land and less solar, making it an appealing option for developers over the next several years, giving way for more opportunity to be more aggressive in hitting those energy targets.
VHB: How are solar projects awarded in the state of Connecticut?
Steve: Solar projects are granted through a few programs. The Connecticut Department of Energy and Environmental Protection (DEEP) will offer an RFP to developers once or twice a year to submit projects from which they will select solar projects that they want to see move forward. Developers can also work directly with Eversource, the largest utility provider in Connecticut, through the Renewable Energy Credit Program, which offers megawatt credits to developers for their projects. There is also a new program called the Community Solar Program.
VHB: Once VHB partners with a solar developer on a project, what type of work does that involve for VHB?
Steve: VHB works on solar projects that include carport, rooftop, or ground mount solar and we manage the project from inception to completion, which typically includes surveying, conceptual design, engineering, environmental studies, and traffic plans. We also handle all permitting – in Connecticut, the permits are Siting Council and CT DEEP storm water permits, but this would differ from state to state. We then walk a project through construction, providing inspections as needed, and construction oversight as well.
VHB: VHB has had the amazing opportunity to work on some of Connecticut's most successful solar projects. Could you tell us more about these projects?
Steve: Of course! One of our first projects in Connecticut was in 2018 on the Tobacco Valley Solar Farm in Simsbury. The solar farm is on 130 acres, home to about 150,000 solar panels that generate 26 megawatts of energy output, which is enough energy to power 5,000 homes.
Within the last six months, we have received Siting Council Petition approval on several projects that we are partnering with Greenskies Renewable Energy on. Through the Siting Council and CT DEEP, we received approval on Waterford Solar, a 16-megawatt project, and Boombridge Solar in North Stonington, a 5-megawatt project. Those two, plus one other – Mulnite Farms Solar in East Windsor, should be going to construction this Spring.
VHB: That is great news! In addition to these permit approvals, do you have new projects or wins you are able to share with us?
Steve: We have several wins that will begin in 2021. As far as current projects, we are hoping to wrap up permitting shortly on Gravel Pit Solar in East Windsor. This is a 500-acre, 120-megawatt solar farm, which I believe will be the largest (to date) solar farm in New England, as currently designed, and could provide energy for up to 25,000 homes.
VHB: Projects can be met with some challenges, have you encountered opposition on any of these solar projects?
Steve: It depends on the variables of each project. There are many benefits to solar energy, and we like to say that solar farms are a good neighbor, offering low noise levels, limited environmental impacts, and minimal traffic flow to and from the facility sites.
The unknown can create some questions, but once communities learn that solar will have a minor impression overall and what the great benefits are, any disapproval generally subsides. We all want to see a more sustainable and environmentally friendly footprint, and solar, like many renewables, offers just that.
If you would like to learn more about VHB, renewable energy, or any of the Connecticut solar projects VHB is working on, please contact Steve Kochis, PE, Senior Project Engineer at skochis@vhb.com.