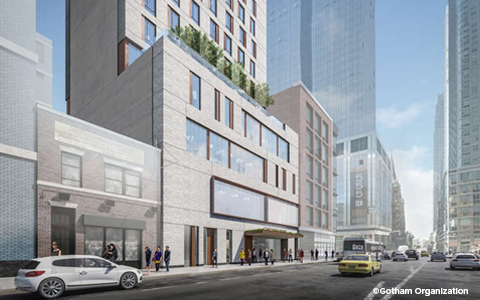 For more than 45 years, Covenant House New York (CHNY) has been a leader in providing residential services to vulnerable homeless, runaway, and exploited youth seeking safety and refuge. To expand services and reach more members of the community, CHNY is currently buidling a new 11-story state-of-the-art flagship facility, in partnership with the Gotham Organization.
VHB is proud to have supported CHNY by providing environmental review documentation that contributed to the necessary negative declaration from the Dormitory Authority of the State of New York (DASNY). The negative declaration confirmed that there were no environmental impacts, allowing CHNY to move forward with funding applications. CHNY has applied for $4 million in grants from the New York State Department of Health Statewide Healthcare Facility Transformation Program and New York State's Empire State Development (ESD) Regional Economic Development Council. These grants will allow CHNY to continue progress on the flagship facility.
The new 80,290-square-foot facility will include a Diagnostic and Treatment Center (D&TC) and will serve more than 120 young people at a time—more than 1,900 annually. Along with providing a residential shelter with 80 units, this new facility will offer community resources, such as healthcare, legal services, life skills development, expanded employment training, recreation, and youth guidance programs all under one roof.
Construction for the facility broke ground in September 2019 and is scheduled to be completed by May 2021, allowing CHNY to continue their mission of helping young people overcome homelessness in New York City and build new lives. Click here to read more about construction progress on this important project.