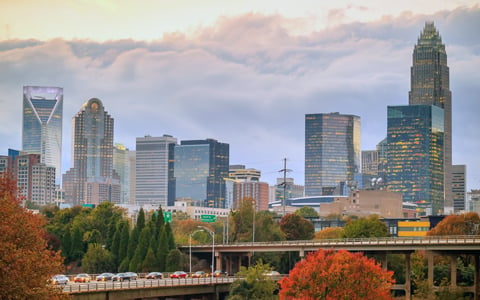 The Cross Charlotte Trail (XCLT) is a partnership between the City of Charlotte, North Carolina, and Mecklenburg County to create a continuous 26-mile trail and greenway system that will extend from the City of Pineville through Center City and on to the Cabarrus County line. As one of the premier projects within the City of Charlotte's Community Investment Plan (CIP), this alternative transportation and recreation network is intended to bring citizens together to enhance mobility and access to public spaces while creating a vibrant, healthy, and equitable community. VHB is providing transportation planning and design services to the City of Charlotte on segment 11 of the trail—the northern-most section—that connects Pavilion Boulevard to Kempsford Drive along Mallard Creek.
The design and construction of the XCLT is divided into segments split between the City of Charlotte and Mecklenburg County that are in various stages of design, construction, and completion. City leaders and stakeholders have been proactively aligning the trail north and south of the city center to create a safe, continuous connection for commuting and exploring without having to rely on vehicles. Transit users will also be able use the XCLT as a first-, last-mile connection to existing and planned CATS bus and light rail corridors.
"We're excited to play a role in such a momentous project for the communities of Charlotte and Mecklenburg County," said Lyuba Zuyeva, Senior Transportation Planner for VHB who managed the planning study effort that began in 2020. "When all phases of the trail are complete, the XCLT trail will serve as an active transportation network spine, providing an opportunity for residents and visitors to access points of interests, schools, parks, neighborhoods, and Uptown—supporting transportation infrastructure and promoting sustainability."
VHB's transportation team completed the advanced planning study and 30 percent design services for segment 11 in the Fall of 2021 to evaluate existing conditions, surrounding developments, topography, environmental constraints, and existing easements. The study identified several alignment alternatives including bridge options over Mallard Creek and a preliminary stream and wetland evaluation to identify wetlands, ponds, and streams. The alternative selected for segment 11 will provide access points at Pavilion Boulevard, Pavilion Village Apartments, and the Houston Hills residential community, as well as connection to an existing sidewalk along N. Tryon Street.
Learn more about our planning capabilities and experience in North Carolina. Contact Lyuba Zuyeva or Jon Soika to learn more about our role on Segment 11 of the XCLT.