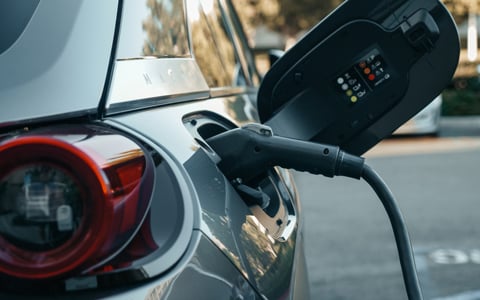 Dominion Energy, a power and energy company headquartered in Richmond, Virginia, announced the development of a Clean Energy Park in a densely developed area of the City's downtown. VHB provided a full spectrum of landscape architecture services for this eco-friendly project, including sustainable stormwater solutions; site layout, including EV charging components; grading and drainage; and art and educational signage.
Located adjacent to Dominion Energy's 20-story headquarters, concept plans for the park include 29 electric vehicle (EV) charging stations, an amphitheater, tiered eco lawn, and food truck plaza. With an emphasis on creating a learning destination, the park will also incorporate educational signage, wayfinding, and narratives that explore methods of green power.
As a living, learning destination, the park includes a large-scale walkway that meanders from one side of the site to the other, providing educational components along the way that reflect the project's four themes: wind, solar, water, and light. From wind turbines to the solar panels on top of the parking space canopies, to the charging units, and switch gears, Dominion's focus is to increase awareness and education about the benefits and impacts green energy has on the built environment.
"Dominion could have taken the use of this site in so many different directions," said Charlene Harper, Landscape Architect. "They chose to create a space that will benefit our entire community by expanding the EV charging network, providing a space to connect in a dense urban area, and promoting sustainable practices through the amenities and educational elements."
VHB's landscape architects incorporated a creative approach to stormwater management on the site, including a combination of above and below ground cisterns to collect water runoff from the solar canopies for reuse and irrigation. These techniques are designed to reduce runoff—a huge benefit to the local combined sewer system, which is not as equipped to handle today's storm events.
Dominion is also pursuing a SITES certification for the project—a Green Business Certification and sustainability metric system that protects ecosystems and enhances climate regulations and flood mitigation.
"This project is a successful example of VHB's blended practice capabilities and how our landscape architects and engineers work together in tandem," said Charlene. "We can conceptualize details from the eco lawn to the nuanced layouts needed for the charging stations and solar canopies. We've learned that to make our designs technically viable, the landscape architecture and civil engineering must seamlessly blend—an added value to clients."
Permitting for the project is underway with an expected park opening in 2024. The design team for the project includes architect Baskervill; structural engineer Lynch Mykins; and general contractor Whiting Turner.
VHB is helping to meet the demand for fast-charging stations across the United States. Discover more about how we can help develop innovative EV infrastructure solutions.