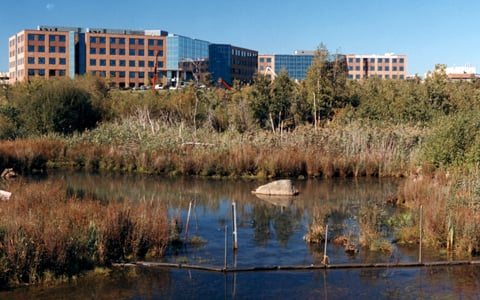 The New England District of the U.S. Army Corps of Engineers (USACE) has issued draft statewide Massachusetts General Permits (GPs), for work within Waters of the U.S. The current GPs expire on April 5, 2023, and VHB's team of environmental scientists have been actively monitoring the draft GPs to understand what will change and how we can best support our clients in navigating these regulatory changes.
If construction will be completed by April 5, 2024, the project can continue to be covered under the terms and conditions of the current (2018) GPs. The permittee must be able to document to the Corps' satisfaction that the project was under construction or under contract to commence before April 5, 2023.
If construction will extend beyond April 5, 2024, the project will be eligible for a reverification process for coverage under the new (2023) GPs. However, expect extended timelines on reverification due to the queue.
If projects have received an approval but have not begun construction by April 5, 2023, the permittee must re-apply for coverage under the new GPs.
What to Expect for Specific Markets
The draft shows that the USACE has largely rewritten the GPs rather than simply updating the prior GPs. Download our analysis, which includes what to expect in real estate/institutional, energy, transportation, and federal projects based on our current understanding of the draft GPs.
How VHB Can Help
VHB's environmental scientists are highly experienced in regulatory assessments and permitting across our market sectors. For specific questions and information regarding how the new GPs may apply to your project, connect with our Massachusetts market permitting specialists.
Real Estate/Institutions: Laura Laich, Senior Environmental Scientist
Energy: Vivian Kimball, Director of Natural Sciences
Transportation: Daniel Cannata, Wetland Scientist
Federal: Lars Carlson, Senior Project Manager