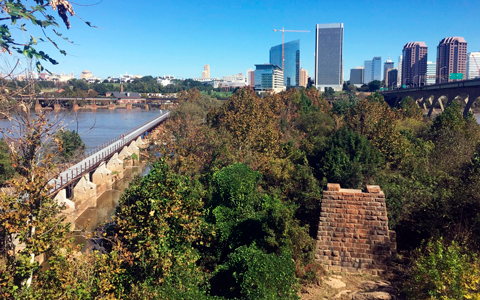 The James River Park System Master Plan received an Honorable Mention from the Virginia Chapter of the American Planning Association (APA) at their 2022 Annual Conference in July. The Master Plan was a collaborative effort between the volunteer-led, Friends of the James River Park (FOJRP), the City of Richmond, Hargreaves Jones, and VHB. The plan provides a 10-year decision-making framework that will promote habitat restoration, multimodal access, recreational activity, and park expansion.
As the city's largest municipal park, the James River Park System boasts 600 acres of untamed wilderness, whitewater rapids, and hiking trails along both banks of the James River. It has become a major draw for people to the area, providing a range of ecological, historical, and economic benefits to the City of Richmond. The number of park visitors has steadily increased since the adoption of the previous Master Plan more than 50 years ago, creating new challenges for maintenance and preservation.
To prioritize and address these issues in the Master Plan, VHB led an extensive civic engagement effort. The project team conducted interactive community and pop-up meetings across Richmond's nine City Council Districts to reach a broad and diverse group of stakeholders. Additionally, an online survey collected more than 2,300 results that were documented as an integral part of the Master Plan and directly shaped the plan's recommendations.
"The Master Plan sets a new standard for civic engagement," said Chris DeWitt, Mid-Atlantic Planning and Design Service Leader at VHB. "With public input as our foundation, we were able to contextualize sustainability, resiliency, and equity for the City of Richmond and the James River Park System."
The Master Plan outlines specific goals for the restoration and conservation of natural resources, emphasizing that certain sections of the park should remain wild and difficult to access. With an equity focus, the plan recommends increased transit access and pedestrian/bicycle connections to adjacent communities, including traditionally underserved neighborhoods. In the local and regional context, it fosters connectivity between the James River Park, other city parks, and regional trail networks including the East Coast Greenway and the Virginia Capital Trail.
Many of the plan's recommendations have already been implemented, resulting in improved ADA compliance and accessibility at numerous locations throughout the park; increased funding for the construction of bridges and trail connections; and the protection and conservation of Williams Island, a heavily vegetated island in the James River. A fundraising campaign for the preservation of historic Pump House is also active through legislative advocacy.
To learn more about VHB's park and recreational planning services, connect with Chris DeWitt through email or LinkedIn.