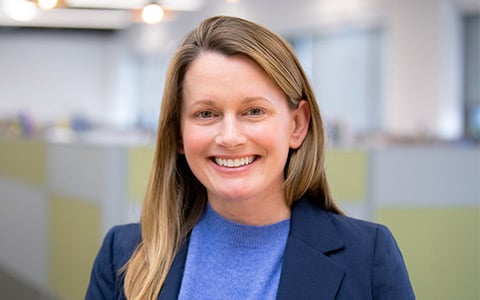 VHB welcomes Jessica (Jess) Kenny as Strategic Transportation Advisor and Director of Urban Permitting to our Boston, Massachusetts, office.
In this role, Jess will help manage and grow the environmental team, delivering permitting services across our markets in Massachusetts. Jessica will bring her business acumen, transportation knowledge, and extensive environmental construction management experience to strengthen VHB's services across New England.
Jess brings more than 20 years of industry experience to VHB in environmental permitting, compliance, contract management, and program management on transportation projects in Massachusetts. Prior to joining VHB, Jess served as Director of Environmental Services for the Massachusetts Department of Transportation (MassDOT). To advance critical infrastructure capacity and safety issues, she directed and streamlined the Highway Division's environmental permitting activities to ensure timely approvals. She also managed permitting for complex design-build projects, large-scale wetland mitigation areas, integrated sustainability into major projects, and developed content for environmental training for staff statewide.
"Jess's leadership and extensive industry knowledge make her a great addition to our team," said Meredith Avery, VHB's Managing Director of Environmental Services. "Her experience driving large-scale and complex projects in the Commonwealth with MassDOT will help broaden our capabilities while building and strengthening relationships with clients."
Jess holds a Bachelor of Science degree in Marine Safety & Environmental Protection from the Massachusetts Maritime Academy. She is a past Director and an active member in Women in Transportation, Boston Chapter.