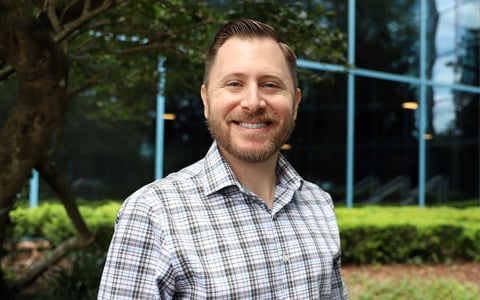 At what point will engineers and contractors no longer use two-dimensional plans to build a project—will they ever be obsolete? We all think in three dimensions, how can we advance design this way? Curiosity about technology's role in our future is top-of-mind for VHB. To help bolster VHB's delivery of next-level projects, the company welcomes Kyle Rosenmeyer, PE, as a Model-Based Design Leader. Kyle's position supports VHB's emphasis on driving data-informed and technology-enabled initiatives across the company's markets, services, and regions.
Kyle will lead VHB's technical team to further elevate the use of model-based design on a firm-wide scale, training the next generation of engineers and designers to leverage Computer-Aided Drafting like OpenRoads Designer to produce 3D models that are already taking the place of traditional two-dimensional plans.
"VHB's commitment to technology reaches into every facet of services that we provide. At this critical juncture in our industry, there is nothing but potential for VHB to lead as a go-to firm for model-based design and Kyle is passionate about that opportunity," said Dave Mulholland, Chief Technology Officer.
With the help of 3D modeling, clients and contractors can visualize not only a single roadway, building, or structure, but also its context in a community or its city through a virtual representation. 3D modeling allows designers to solve problems quickly, while enhancing efficiency and accuracy. Kyle is based in Orlando but his experience and leadership with 3D modeling will help shape VHB's company-wide approach to model-based design and meet emerging innovations within our industry.
"I believe we're living in a time where 3D modeling technology is good enough to eliminate paper plans and reshape how we deliver public infrastructure that improves our communities. It's my goal at VHB to elevate our project delivery staff, many of which use CAD in everyday practice, to reach their maximum potential and exceed the evolving expectations of our clients and their projects," said Kyle.
Kyle is a Bentley accredited designer, Professional Engineer and holds a Bachelor of Science in Civil Engineering from Boise State University. Connect with Kyle on LinkedIn or via email.
For more information, contact Dave Mulholland.